Unique photos from around the world, taken from the height of a drone
27 Mar 2023
The world from above is amazing! This is emphasized by the authors of the photos they managed to take with the help of a drone. We're sure you'll agree when you check them out in our selection.
1. Richat structure - Mauritania
What is this unique natural phenomenon that looks like a mysterious eye? This is a geological formation called Richat Structure, which is located in Mauritania, namely in the Sahara Desert. The diameter of the outer circle of this formation is 50 kilometers. The most interesting thing is that there is no single version of the origin of this natural phenomenon that arose about 600 million years ago. One of the versions is that Richat is the place where a large meteorite fell, and another version calls Richat the mouth of an extinct volcano...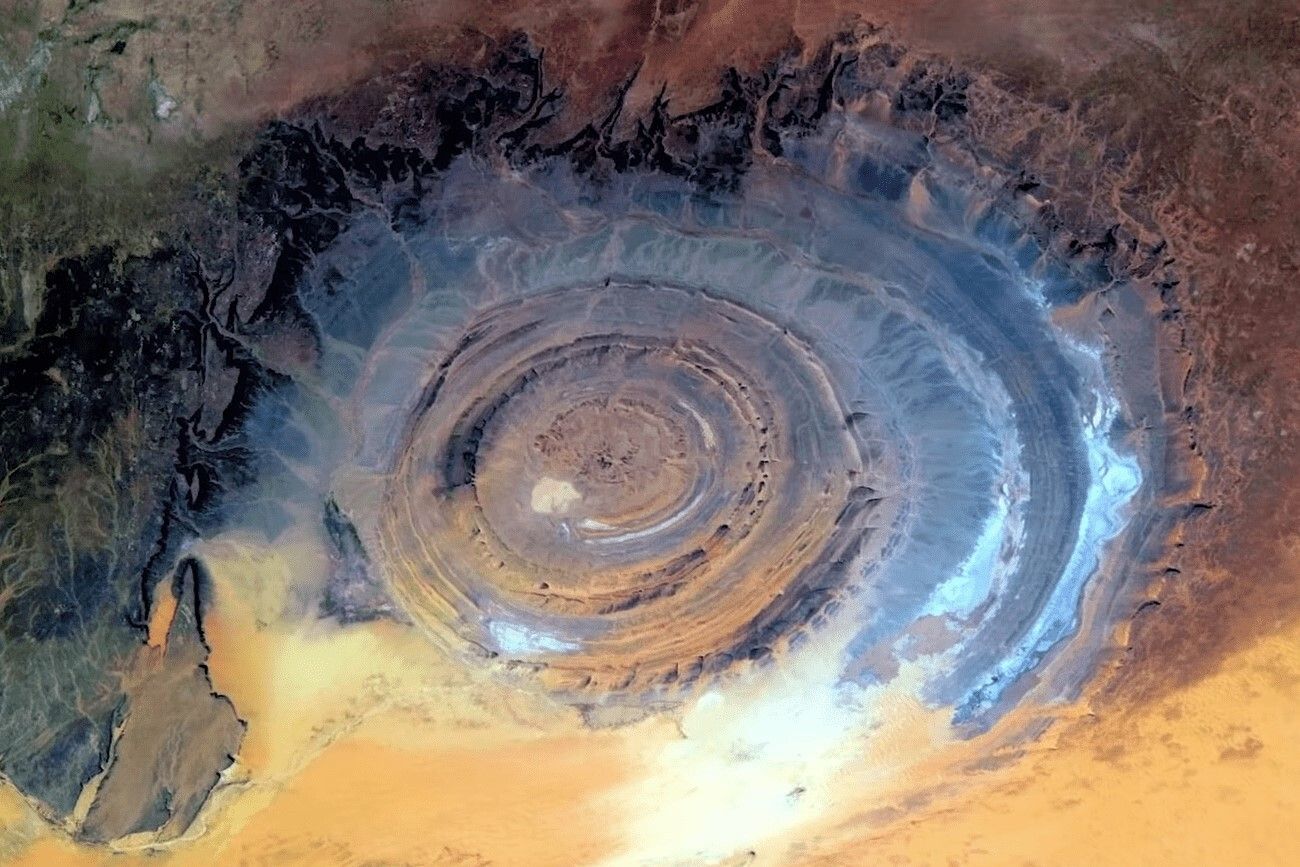 @15 Unbelievable Places that Actually Exist/ Top Fives/ YouTube.com
2. Stone forest in Madagascar
Looking at the next photo, we continue to be convinced that nature has no limits on the creation of miracles! The stone forests in Madagascar, which are included in the UNESCO World Heritage List, impress with their power. Moreover, this unique natural creation is unlike anything else! But what is a stone forest? These are rocks, about 70 meters high and with very sharp peaks. These rocks are located so close to each other that plants cannot even grow between them. According to experts, initially, this territory was located in the World Ocean, where the foundation of this stone forest was formed.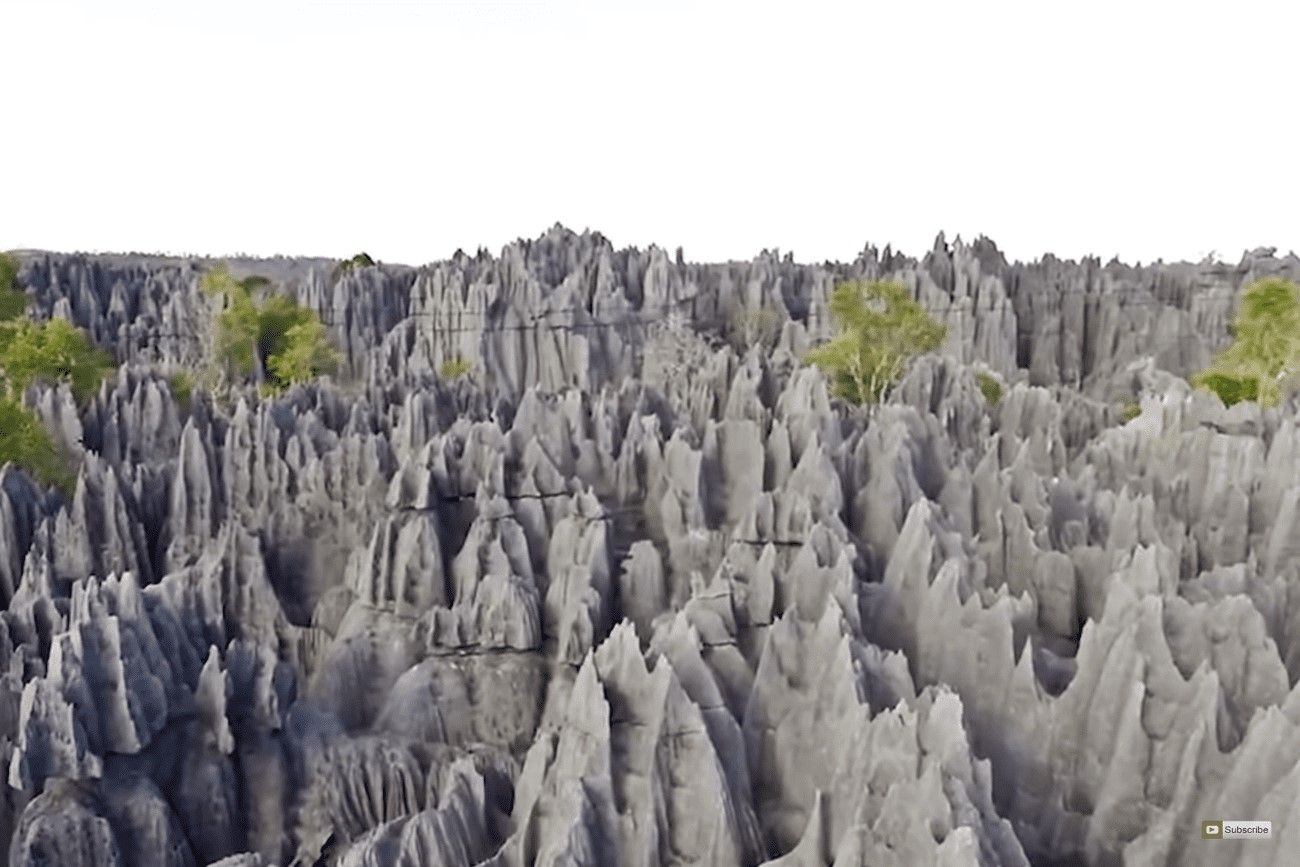 @15 Unbelievable Places that Actually Exist/ Top Fives/ YouTube.com
3. Night Tibet
Many people around the world dream of traveling to Tibet because of the breathtaking scenery! And in this photo taken with a drone, you can admire the Tibetan town at night, which is surrounded by mountains. However, a foreigner cannot simply get into Tibet. This requires obtaining a special permit, as well as hiring a special guide. Those are the strict rules there. And even if a foreigner managed to get to Tibet, he should take into account that many people arriving in Tibet experience severe headaches due to pressure drops.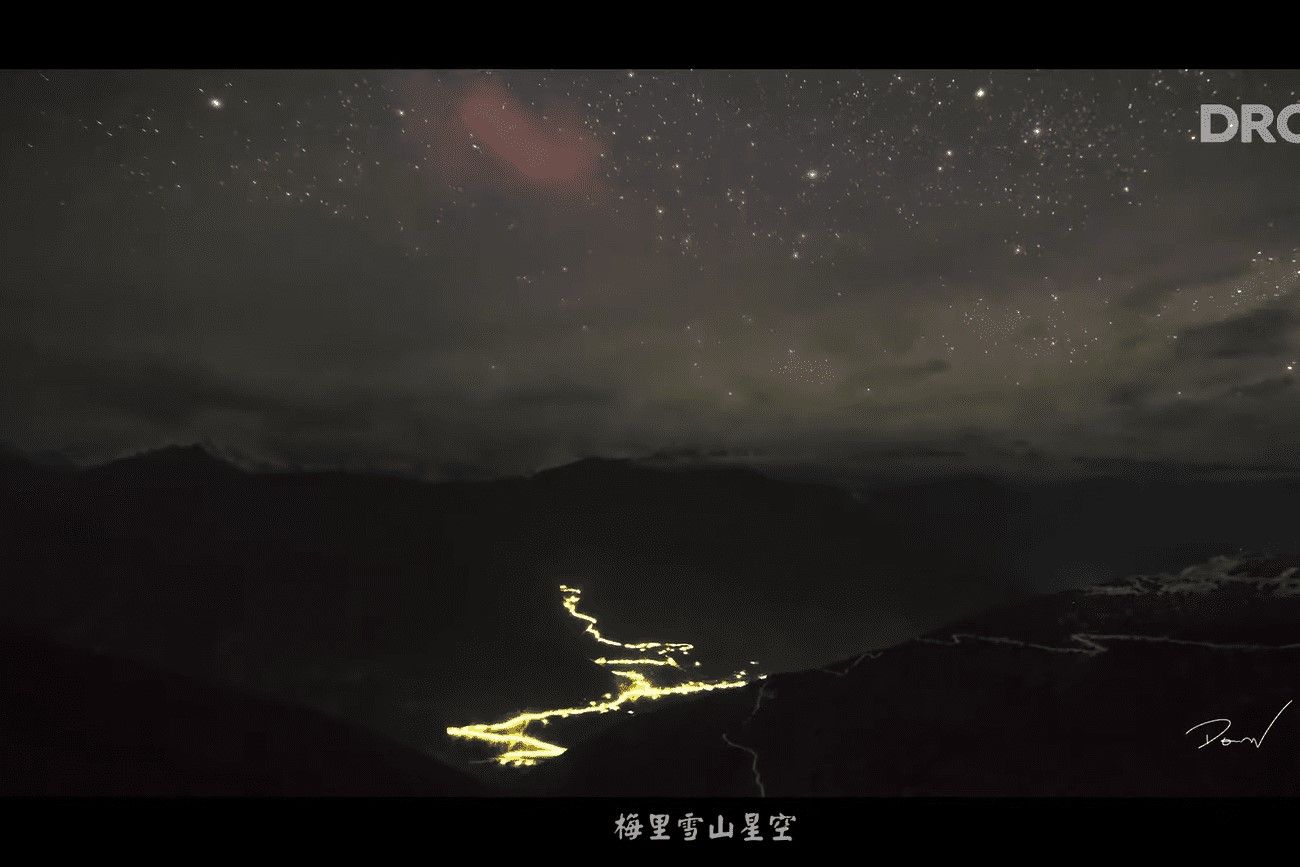 @Beautiful Tibet in Drone Eye 4K | TIBET 4k DRONE/ Drone 4K/ YouTube.com
4. Incredible!
Shooting a volcano from a drone is a brilliant idea because you definitely won't climb into the volcano yourself! The image shows one of the volcanoes in Iceland. By the way, there are about 130 of them in this country! Among them, there are both sleeping and active. Last year, against the background of increased seismic activity in the region, a volcano erupted near the capital of Iceland, Reykjavik. The eruption of this volcano lasted for six months! By the way, there is also a dormant volcano in Iceland that you can descend into! It is located thirty kilometers from Reykjavik and is called Thrihnukagigur.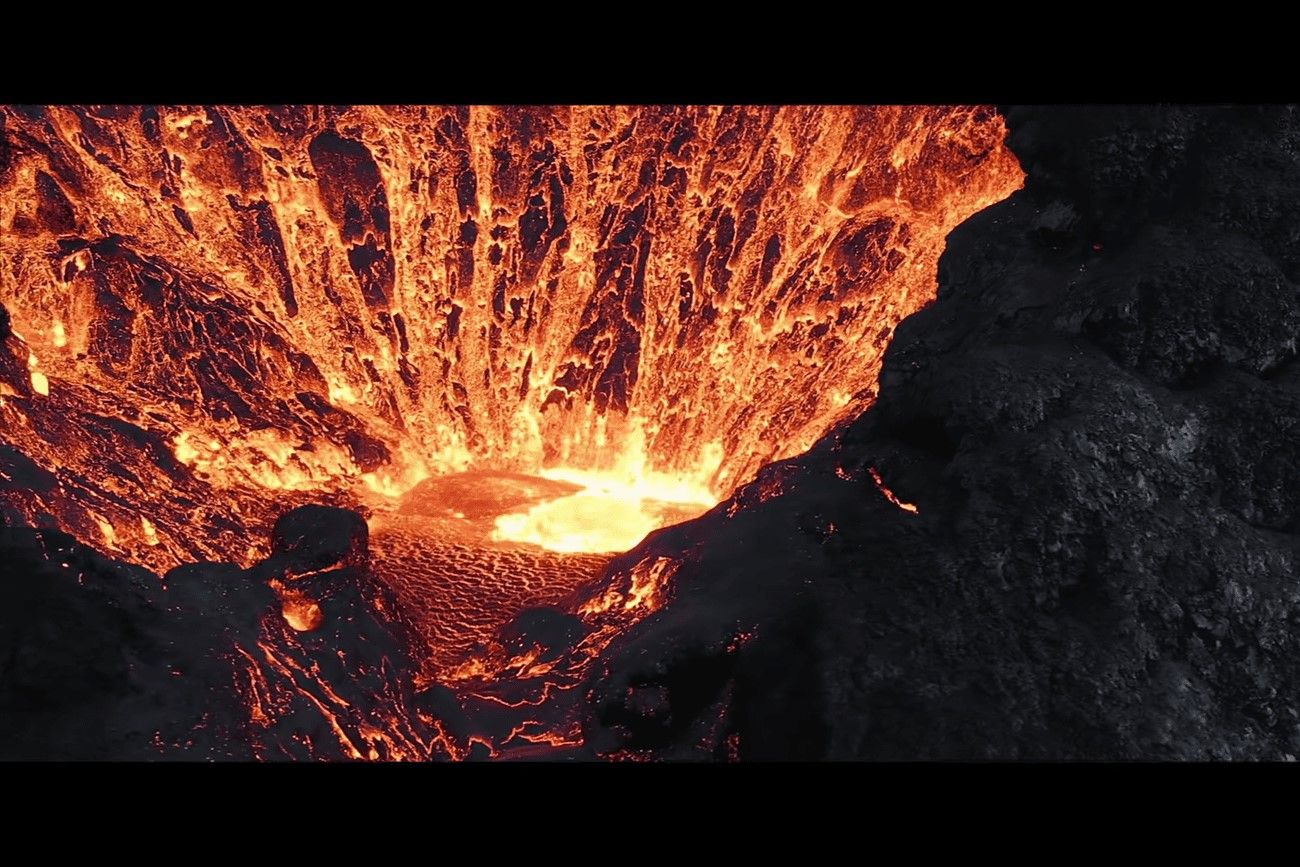 @STUNNING Drone Video of ICELAND VOLCANO Eruption | 4K DJI FPV/ Joey Helms/ YouTube.com
5. Underwater miracle - Mauritius
In Mauritius, there is a unique miracle of nature - an underwater waterfall, which you see in the photo. But what is it? According to geological studies, the illusion of an underwater waterfall in Mauritius arises from strong undercurrents that constantly wash away the sand and contribute to the formation of a high plateau in the ocean. The only way to admire this unique phenomenon is to book a sightseeing tour by helicopter, as you will not be able to see the underwater waterfall while riding a boat.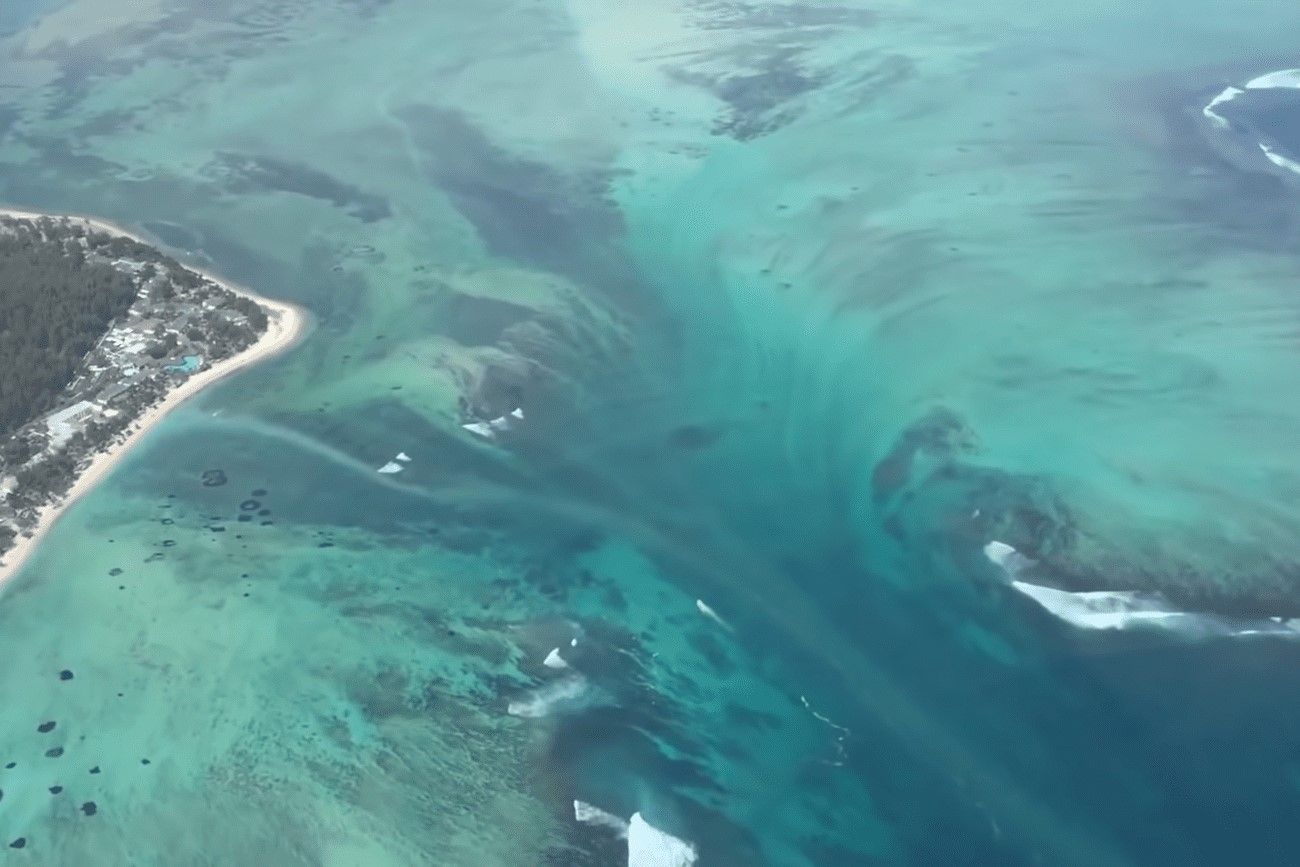 @15 Unbelievable Places that Actually Exist/ Top Fives/ YouTube.com
6. Wonderful patterns on the ice
Sometimes nature does real miracles, which a person cannot do for sure! Just look at what beautiful patterns have appeared on the ice of a lake in Japan. Looks incredible! However, it is better to admire such beauty only thanks to a drone, because walking on ice is dangerous, especially if it is thin. It is important to remember that in no case should you go out on the ice at night and in poor visibility. If you, God forbid, fell through the ice, then the first thing you need to do is spread your arms wide to the sides and try to cling to the edge of the ice so as not to plunge headlong into the water. Then you should carefully try to lie on the edge of the ice, throw one, and then the other leg on it. Roll away from the edge and slowly crawl towards the shore if the ice is stable.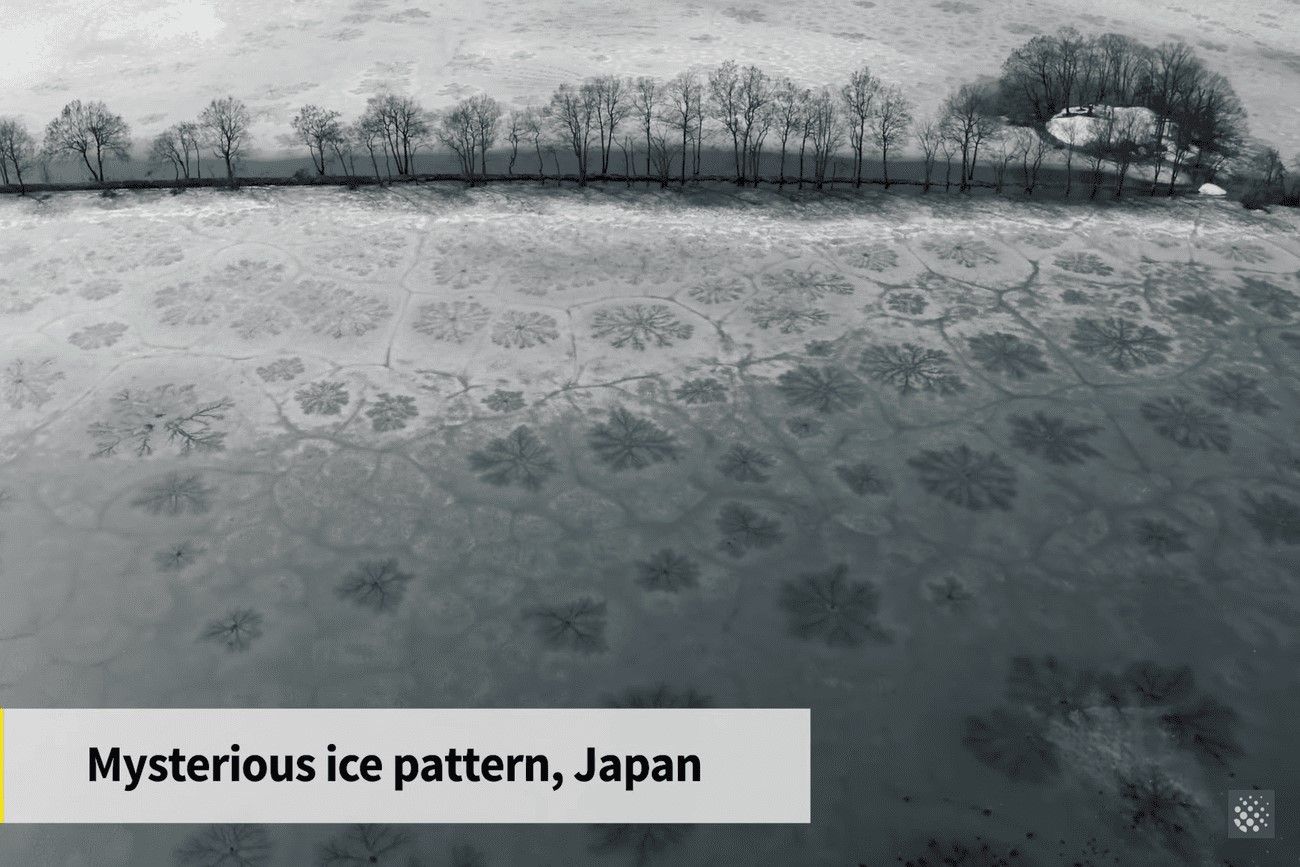 @10 Stunning Drone Footage From Around The World/ Newsflare/ YouTube.com
7. Have you ever seen such a breathtaking photo?
Of course, Canada is rich in incredible natural landscapes and wild animals that live there. The Canadian city of Churchill, which is located in the northwestern part of the province of Manitoba on the shores of Hudson Bay, is known as the "capital of polar bears"! This animal is a dangerous predator because all senses are highly developed, for example, it has good eyesight, smell, and hearing! Thanks to this, the bear can see its prey for several kilometers! And of course, it is very dangerous for people to walk in places where bears live!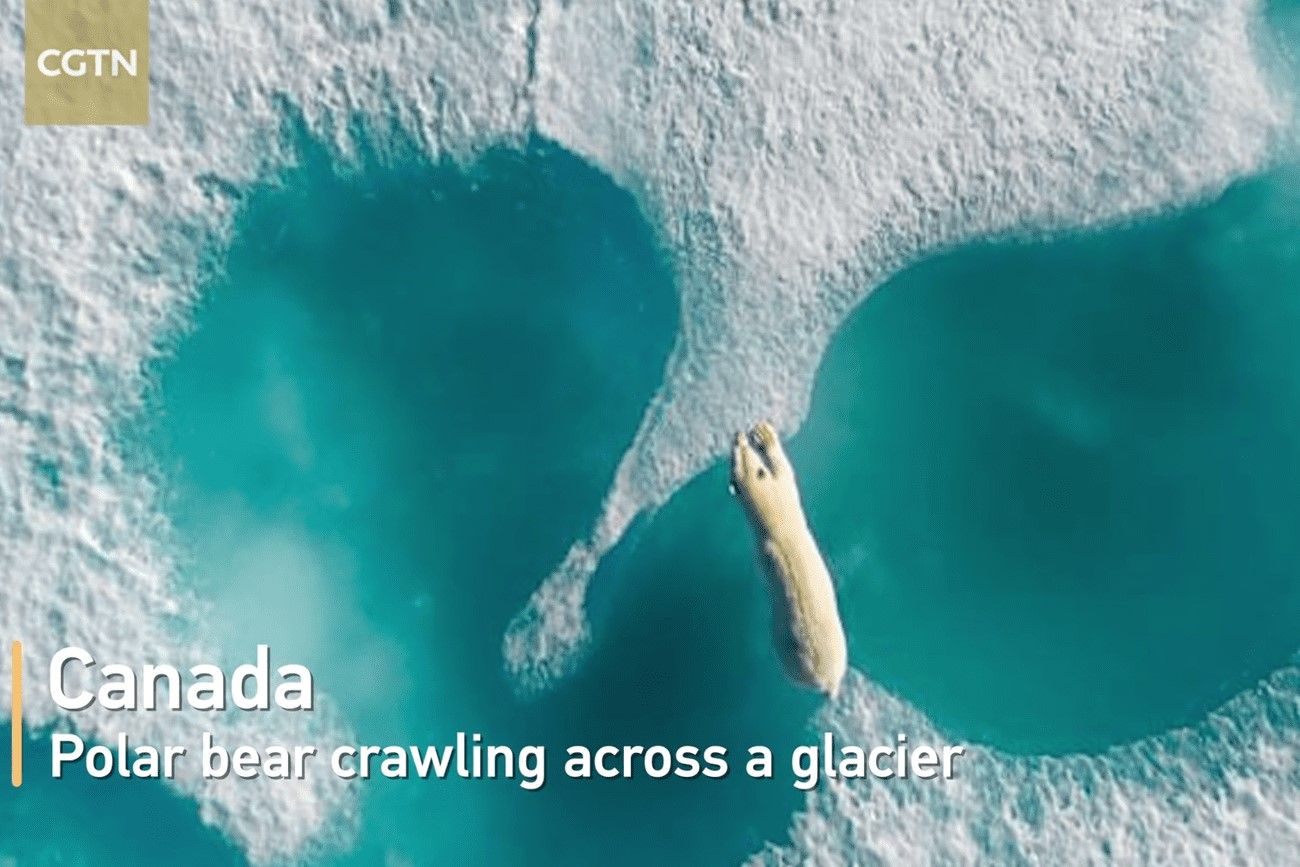 @Twenty of the most beautiful drone photos of 2017/ CGTN/ YouTube.com
8. Beautiful Chicago
Night Chicago looks cool, do you agree? Few people know that this city is rich not only in beautiful architecture but also in useful inventions. It was in Chicago where the vacuum cleaner, the Ferris wheel, the zipper, and soap operas first appeared! Also, here in 1937, the first blood bank in America was opened. Chicago also has the longest street in the world, Western Avenue, which stretches for 23.5 miles! I wonder how long it would take to walk this street.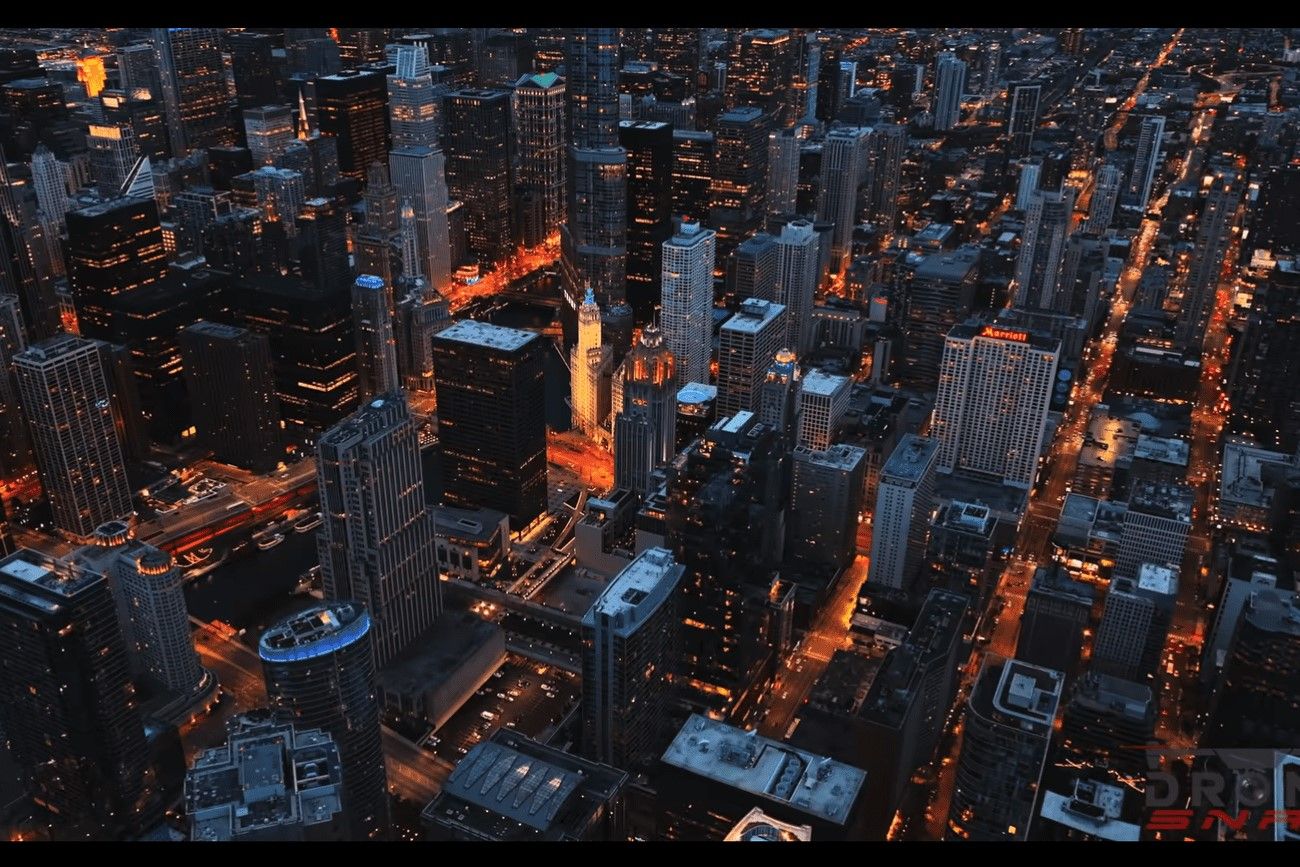 @Chicago, USA 🇺🇸 - by drone [4K]/ Drone Snap/ YouTube.com
9. Miami aerial view
For many, Miami is associated with warmth, carelessness, and a pleasant stay. This is true! An average of 22,000 New Yorkers move to Miami each year due to the warm climate. There are many beautiful landscapes to be found in Miami. This city looks especially breathtaking from a bird's eye view. By the way, Miami has long been a vacation spot for criminal celebrities. For instance, Al Capone purchased a home on Palm Island in 1929 over the islanders' objections. The Miami mayor, however, immediately jumped to Al Capone's defense. Later, it was discovered that the residence, which had been purchased by a criminal, belonged to the mayor.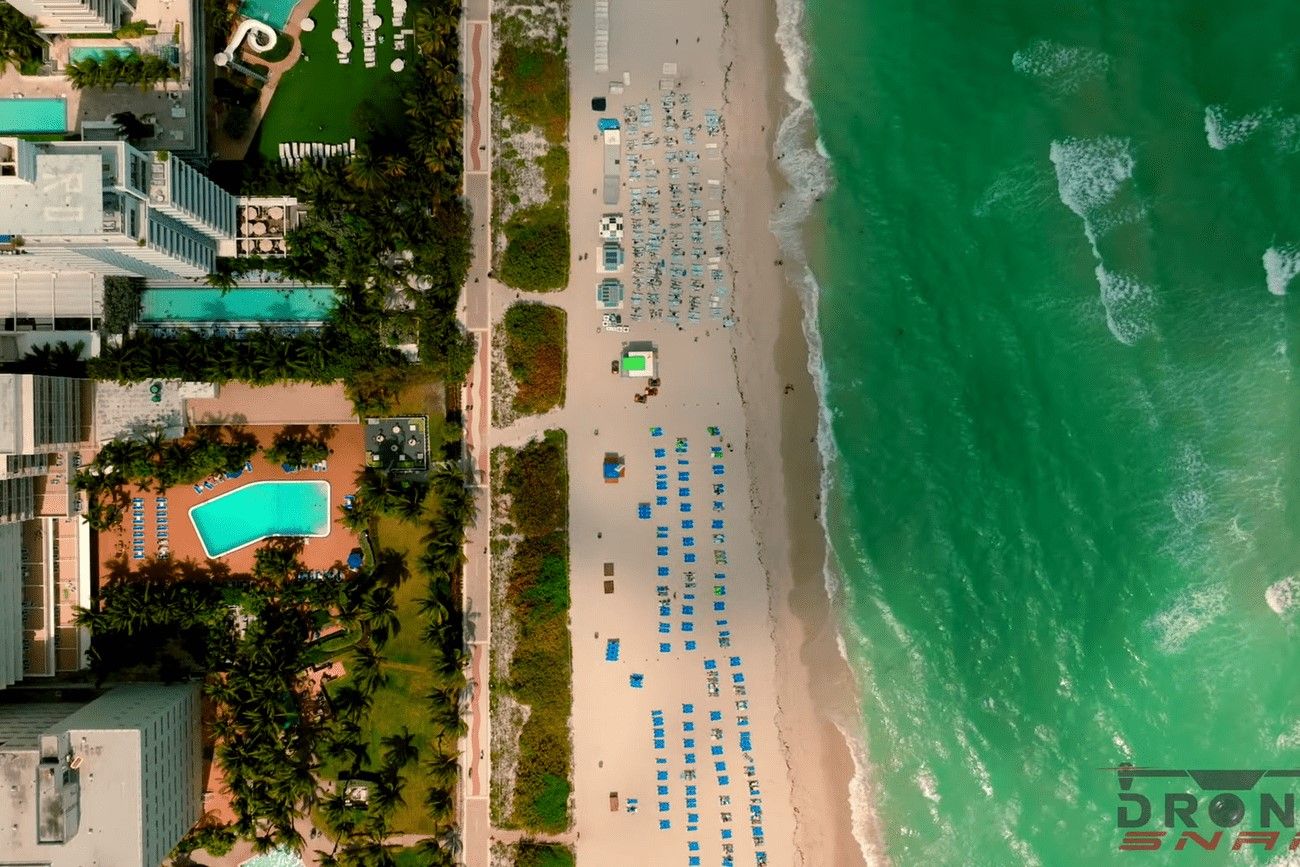 @Miami, Florida - USA 🇺🇸 - by drone / DJI Mavic 3 [4K] / Drone Snap/ YouTube.com
10. The Northern Lights are just fabulous!
If you want to feel like in a fairy tale, then we advise you to visit Iceland and see the Northern Lights for yourself! The best time to see the aurora in Iceland is from September to April. However, what is this phenomenon, and why does it occur? This is an optical phenomenon that occurs in the upper atmosphere when the solar wind (suspended particles separated from the Sun) collides with particles of the Earth's atmosphere. When in 334 BC Greek philosopher Aristotle noticed the aurora, he thought it was the lights of the Earth.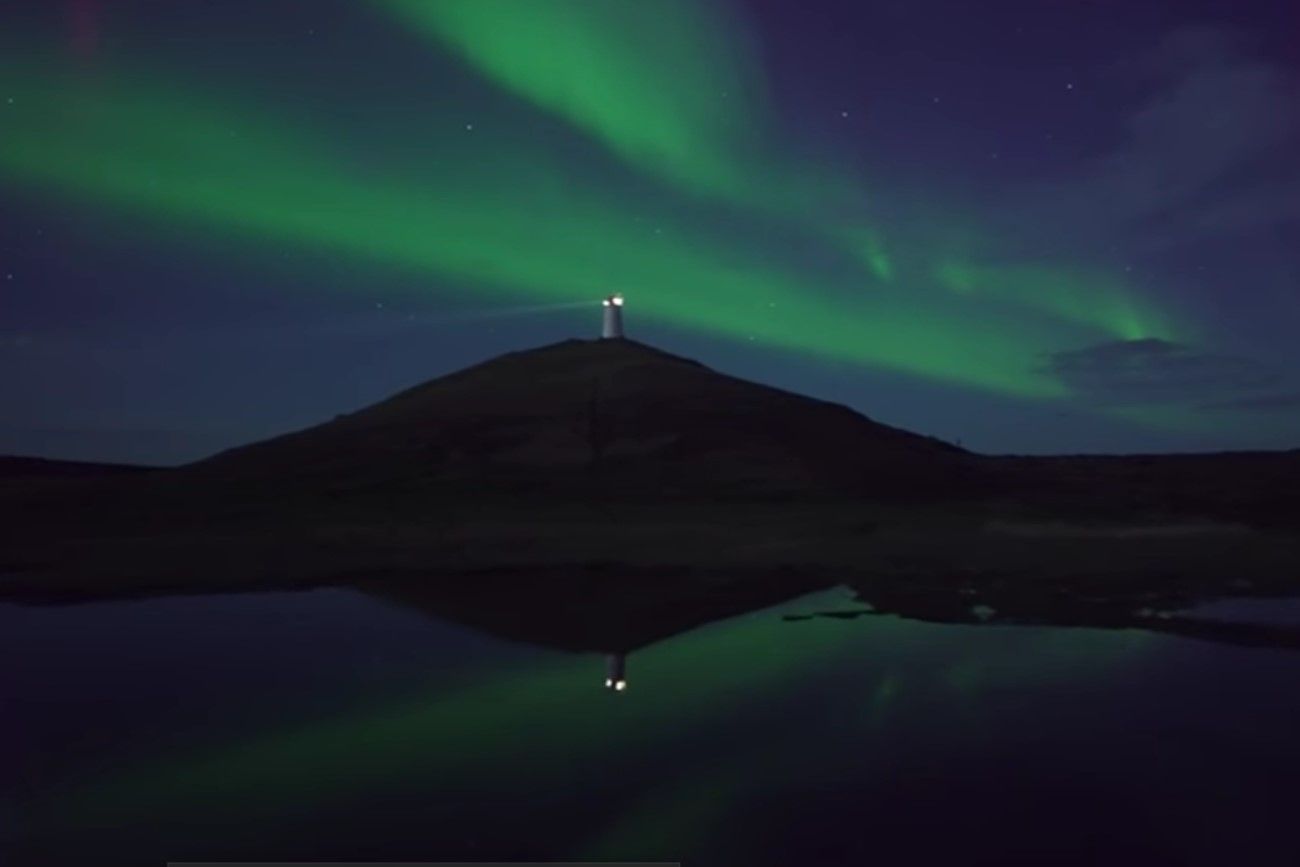 @Northern lights with Drone/OZZO ICELAND/YouTube.com
11. Wedding photo sessions can be original!
If you think that all wedding photo shoots look corny, then this photo can prove you otherwise. A creative photographer gave the newlyweds a wedding photo shoot shot with a drone! The bride, groom, as well as their guests, lay down on the ocean, after which the photographer took a cool photo! By the way, wedding photo shoots were recognized as a special kind of art in the 40s of the XIX century. Until that time, wealthy people tried to preserve the memory of the wedding with the help of portraits.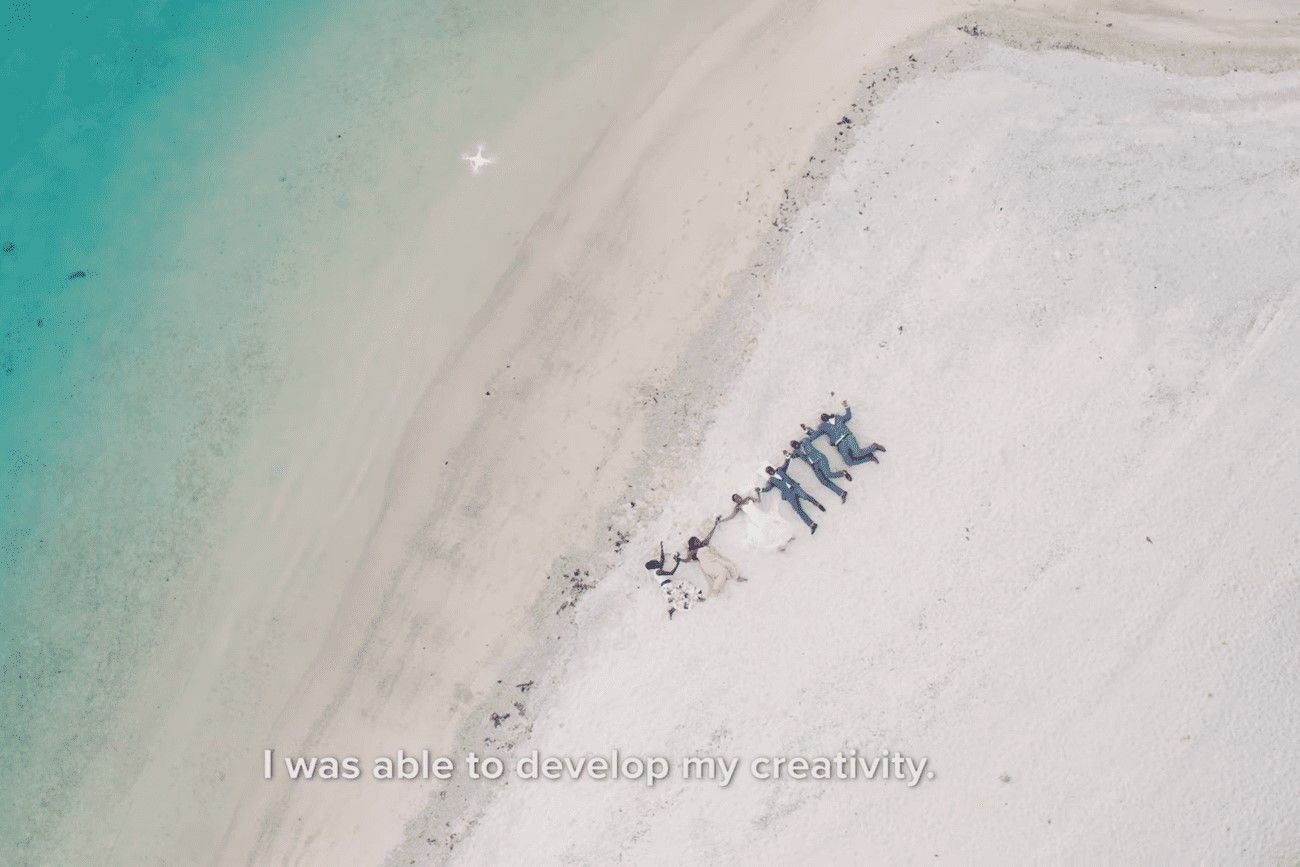 @DJI Profiles – Wedding Photography Reimagined/ DJI/ YouTube.com
12. Cappadocia
Turkish Cappadocia is often called the eighth wonder of the world! And looking at the photo, you can see that this is indeed the case. This is a historical region, formed in the first millennium BC, which tourists from all over the world love to visit! Cappadocia has an amazing landscape - there you can see unusual mushroom columns, pyramids, and undulating canyons. They were formed by natural processes, with the help of wind and water. If you are in Cappadocia, we strongly advise you to take to the sky in a hot air balloon and look at the beautiful landscapes from above!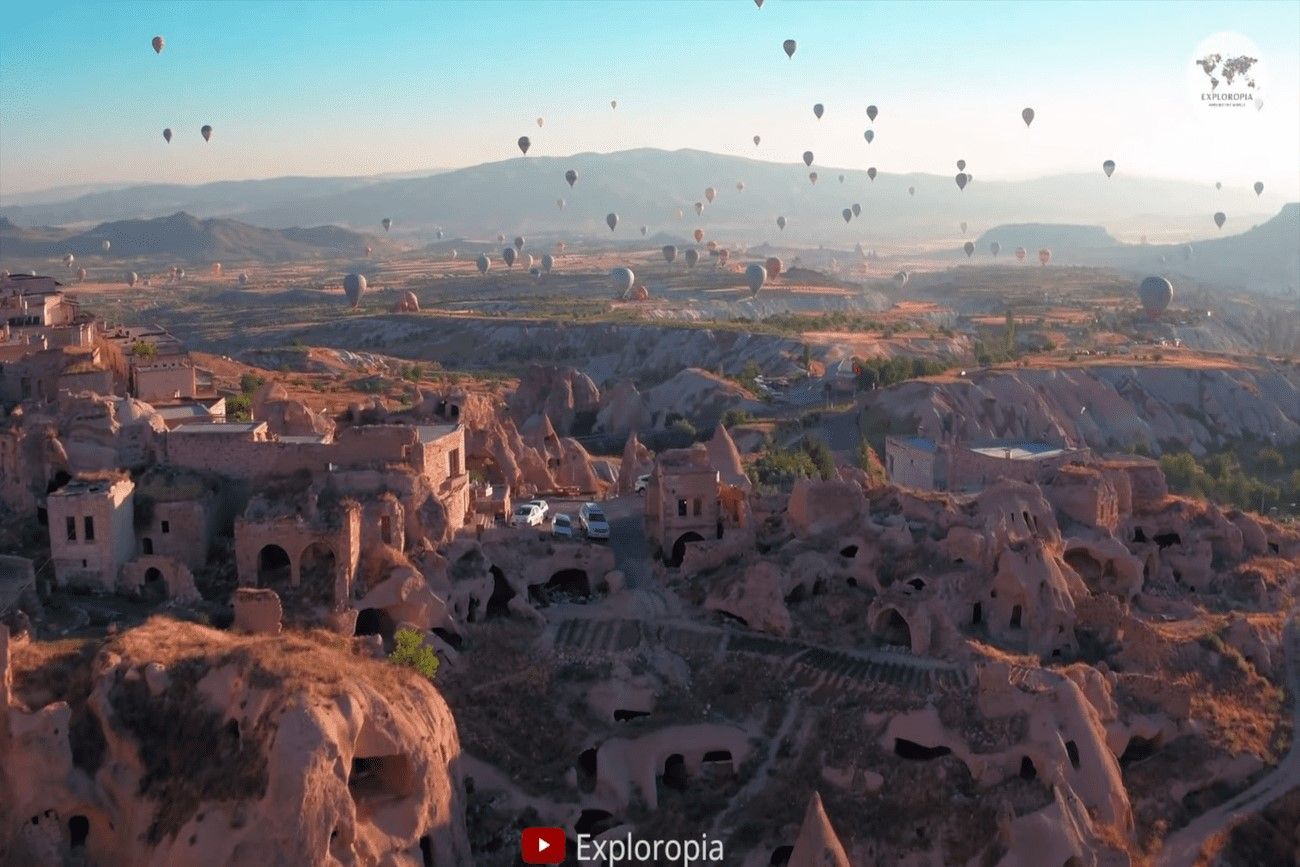 @Cappadocia, Turkey 🇹🇷 in 4K ULTRA HD HDR 60FPS Video by Drone/ Exploropia/ YouTube.com
13. North Pole
There are a small number of people at the North Pole, mostly only explorers. However, you can see this beautiful place from a bird's eye view just now - just take a look at the photo! We have also prepared for you some interesting facts about the North Pole. For example, the night there lasts 172 days, and the day - 193 days! Also, we want to note that the North Pole is located at a distance of 817 kilometers from the nearest settlement to it. It's a small village on the Canadian coast.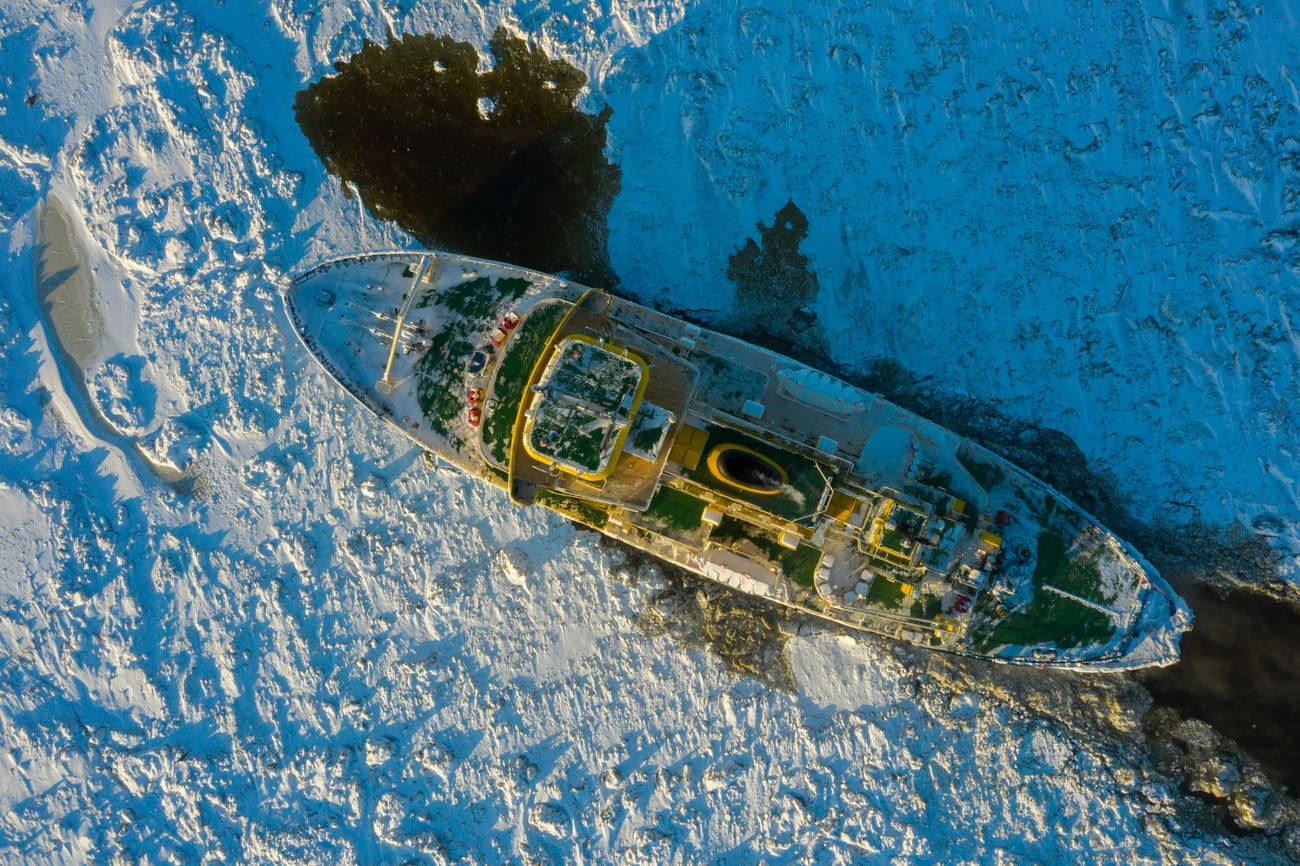 14. Neuschwanstein Castle
From a height, castles look especially majestic! The construction of the German castle Neuschwanstein was influenced by Ludwig II's love for the opera composer Richard Wagner's Lohengrin. It was this work that inspired Ludwig II to start building the "fairytale castle". But what was inside the Neuschwanstein? There were 5 floors and 110 rooms! The rooms were decorated with symbols from Wagner's operas. On the third floor of the castle were the king's private chambers with an original room in the form of a cave with a lake and a small waterfall. When Parliament found out about its existence, Ludwig II was declared insane.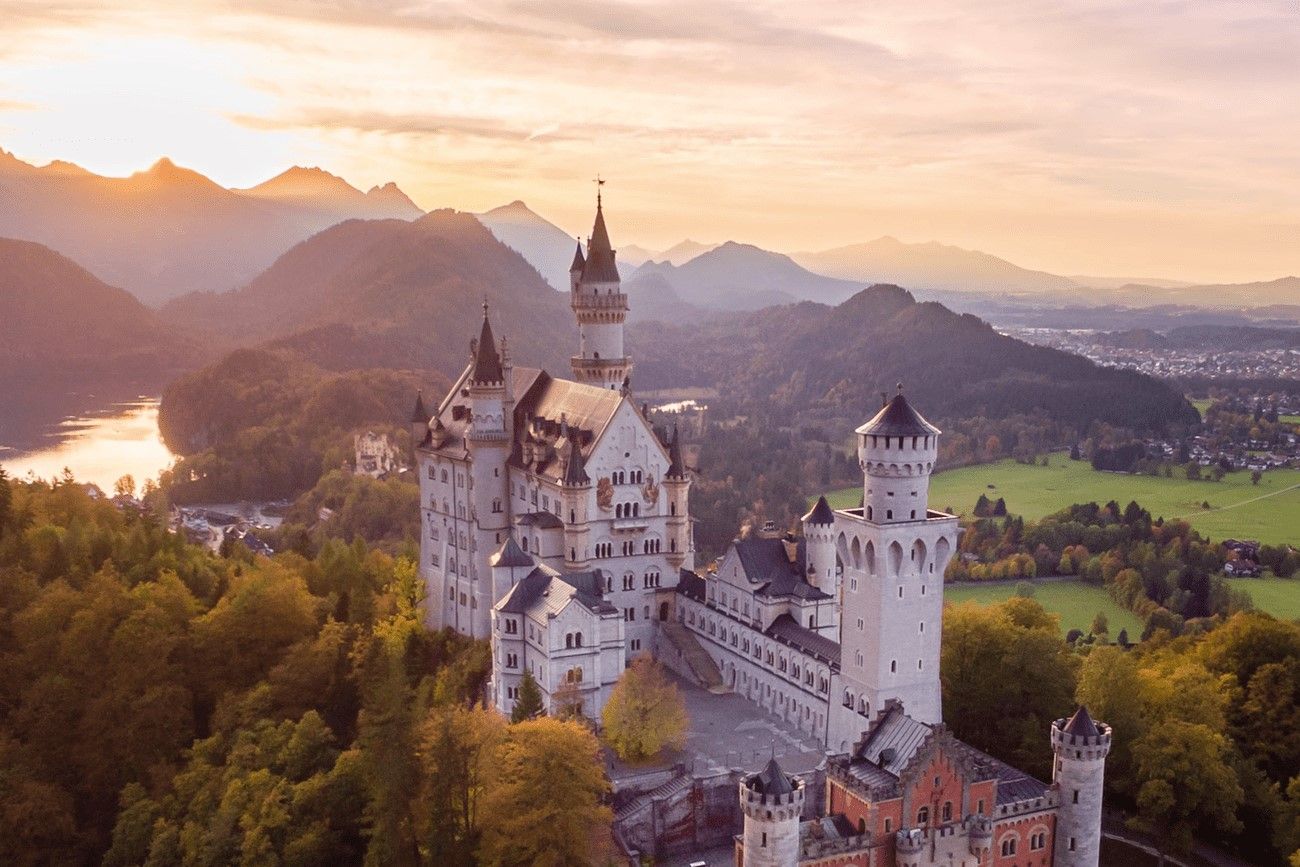 @Castle Neuschwanstein 4k - Drone DJI Phantom 3 Professional/ cw-swiss/YouTube.com
15. Padar Island in Indonesia
Padar Island is considered one of the most picturesque places in the world! This place is amazing because you can see colorful beaches with white, pink, and even black sand of volcanic origin. By the way, the secret of the pink beach lies in the fact that the white sand on it is mixed with crushed red corals. Padar is the third largest island in the Komodo National Park, and once it was inhabited by huge monitor lizards, from which the name of the reserve came. Note that on Padar, tourists can take a 30-minute walk to its top, from where a panorama of the entire island opens.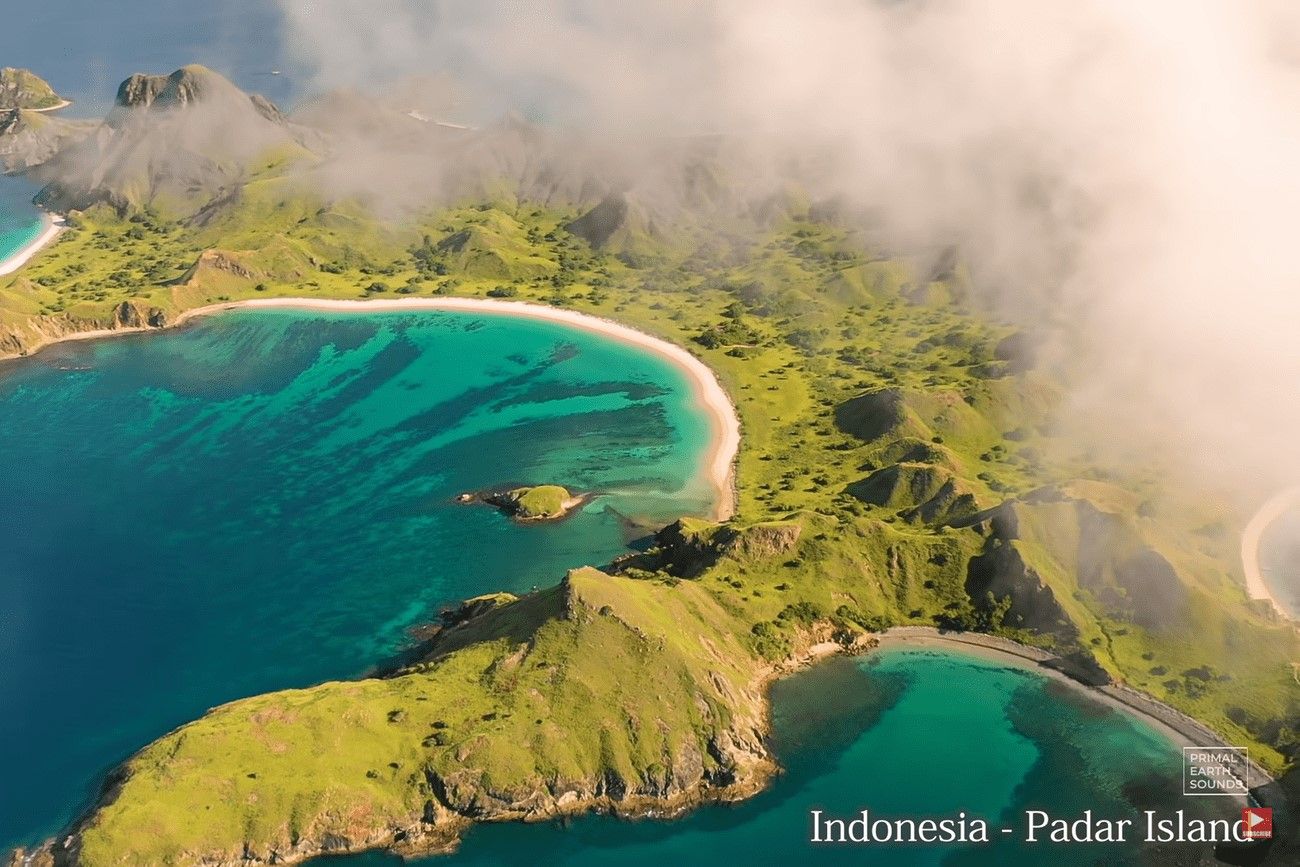 @Most Amazing 100 Places on The Earth 4K/ PRIMAL EARTH/ YouTube.com
16. The Strokkur geyser
Strokkur is one of the most famous geysers in the world. It is located in Iceland near the Hvita River, at a distance of 80 km from Reykjavik. Tourists regularly come to the geyser to see such an impressive natural wonder with their own eyes. Strokkur from time to time throws up a column of boiling water to a height of 22 m! At the beginning of the eruption, the water temperature can reach almost 130 degrees Celsius, as the water comes from great depths, where it can be overheated by volcanic heat.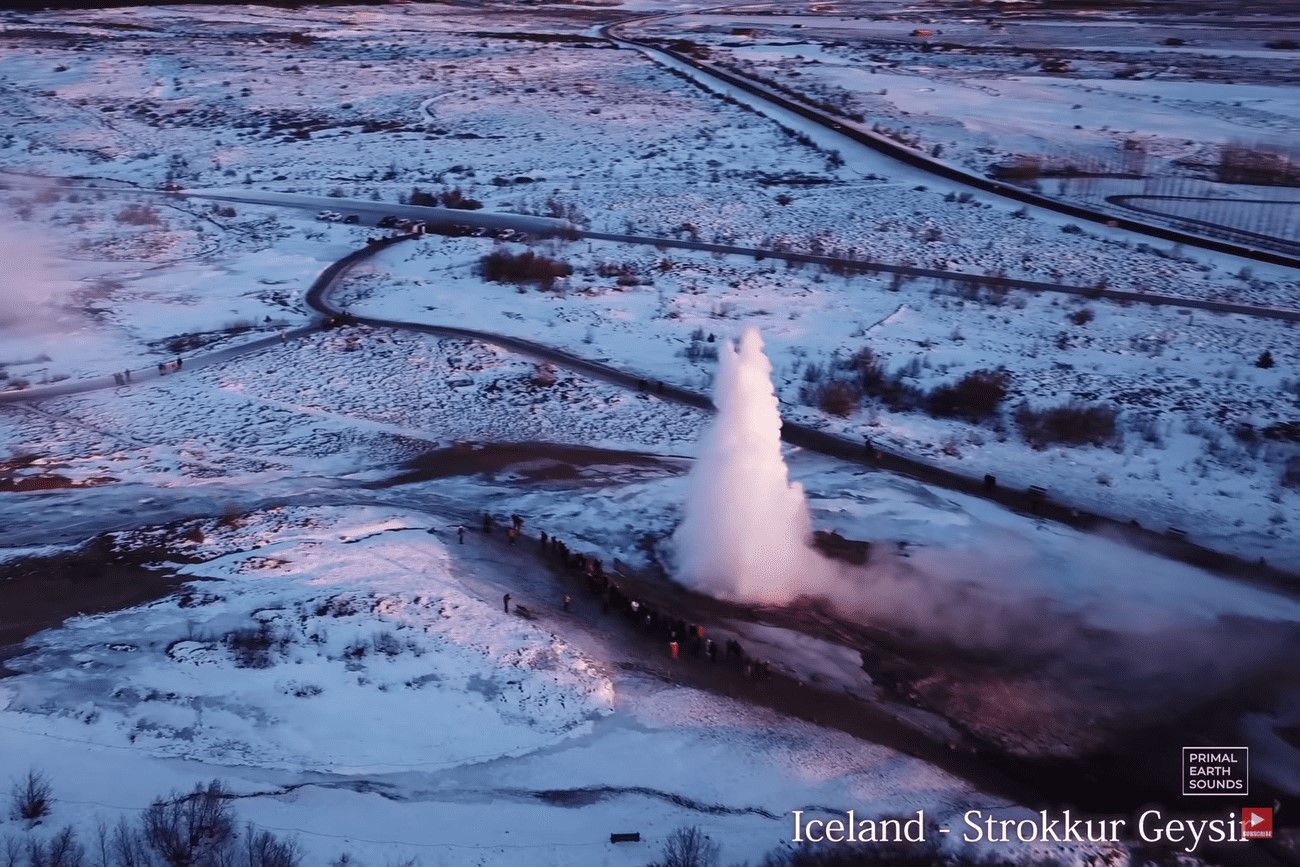 @Most Amazing 100 Places on The Earth 4K/ PRIMAL EARTH/ YouTube.com
17. Tulip fields
The Netherlands is world famous for its beautiful tulip fields. From a bird's eye view, they look even more fascinating! If you want to admire such beauty, then we advise you to visit the Netherlands from late March to mid-May - it is during this period that tulips bloom. One of the most popular tourist destinations in the Netherlands is flower park Keukenhof, world-famous for its tulips. Every season it is visited by more than a million people! Would you like to visit such a place?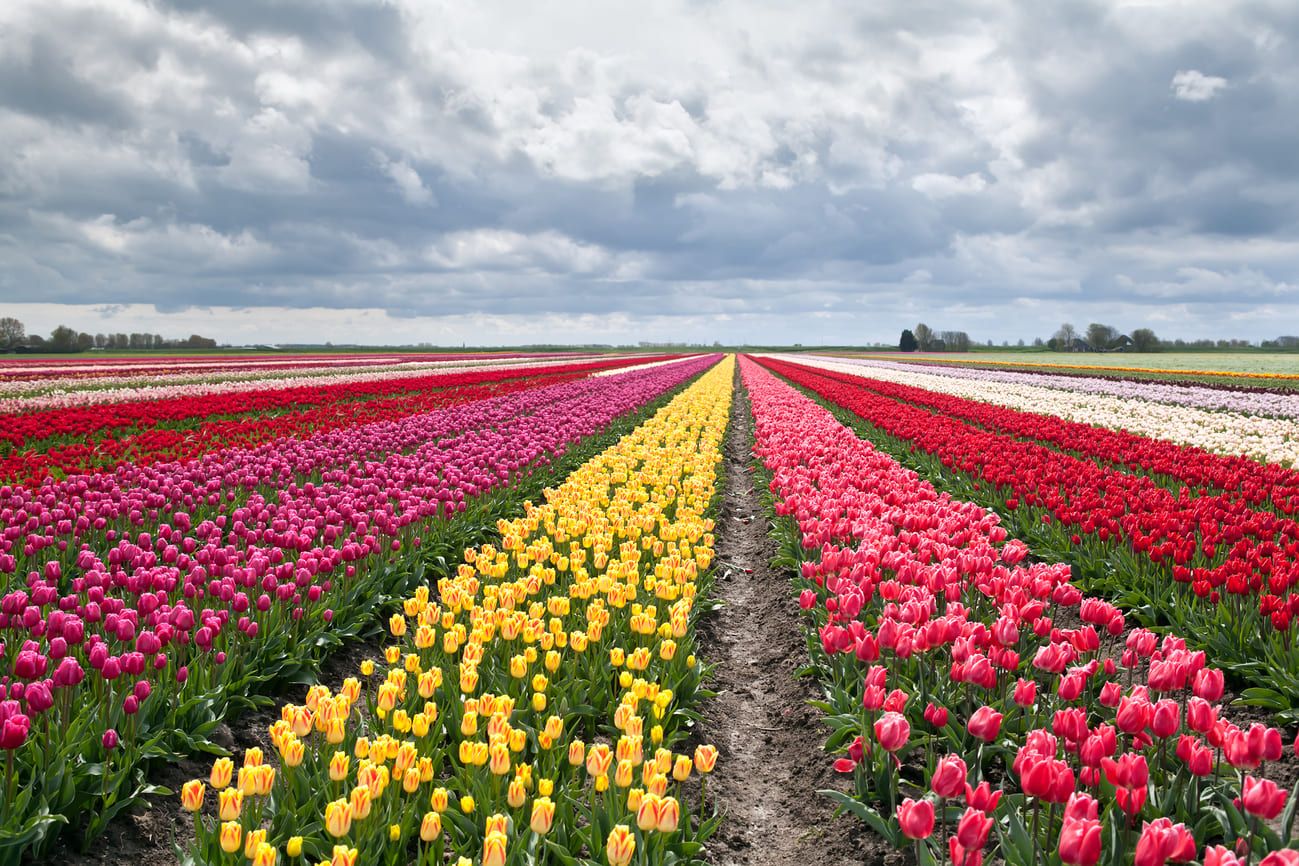 18. Surfer conquers the ocean!
Surfers love to ride the waves in Portugal because it is there that the highest waves and beautiful scenery! The most popular Portuguese surf beaches are Arrifana and Praia do Amado. International water sports competitions are regularly held there. If you are not fond of surfing, but just want to relax in Portugal, then we advise you to take into account that the full beach season there begins in the first half of June, and in early September the velvet season begins in Portugal - the daytime temperature drops to +26 degrees.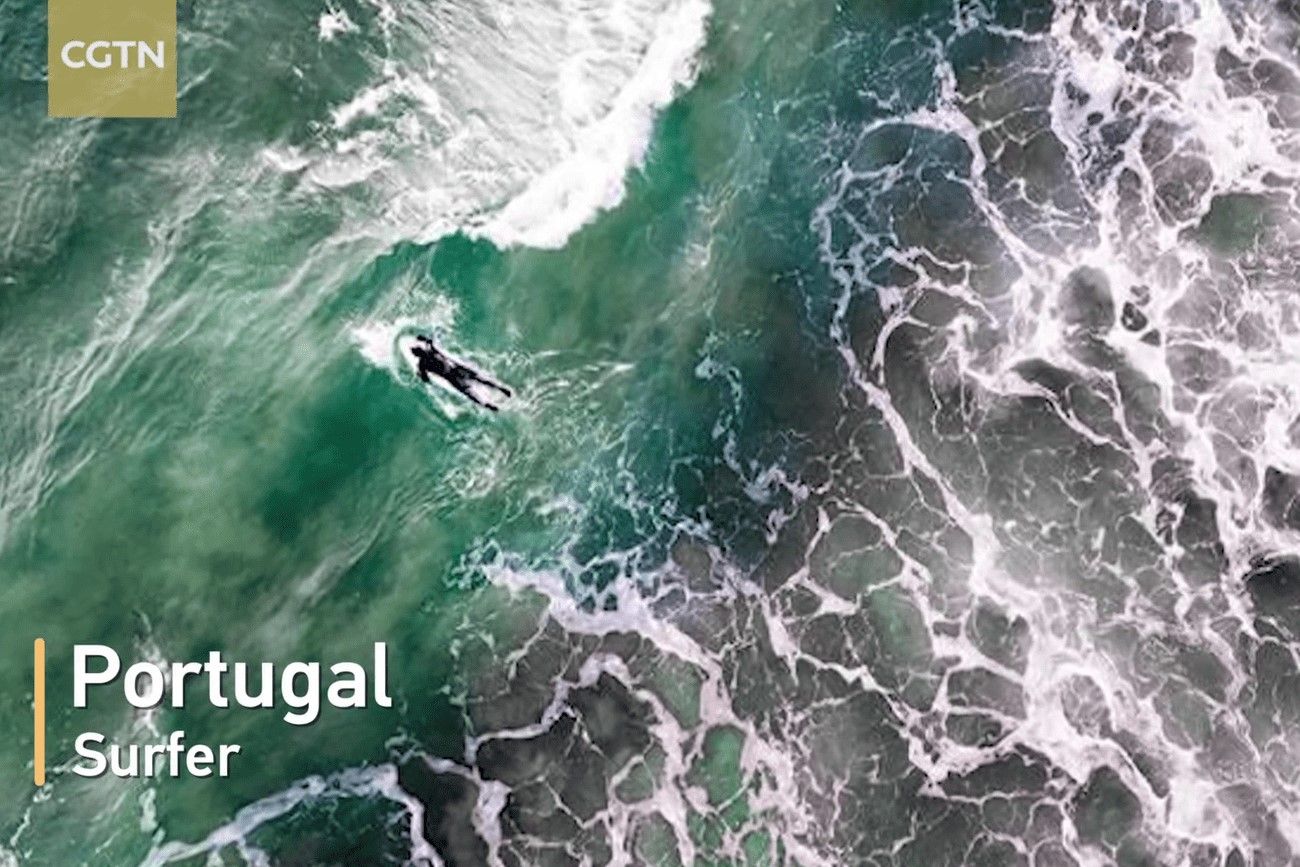 @Twenty of the most beautiful drone photos of 2017/ CGTN/ YouTube.com
19. Chichen Itza in Mexico
Looking at this photo, taken from a great height, you can once again be convinced of how rich our land is in the beauty and wonders that nature and man have created. Chichen Itza is considered the most favorite tourist attraction in the Yucatan Peninsula. This is the ancient center of Mayan civilizations, and one of the main attractions of Chichen Itza is the Kukulkan pyramid, which is unique in its design because its sides are oriented to the four cardinal points. The pyramid has been recognized as one of the New Seven Wonders of the World.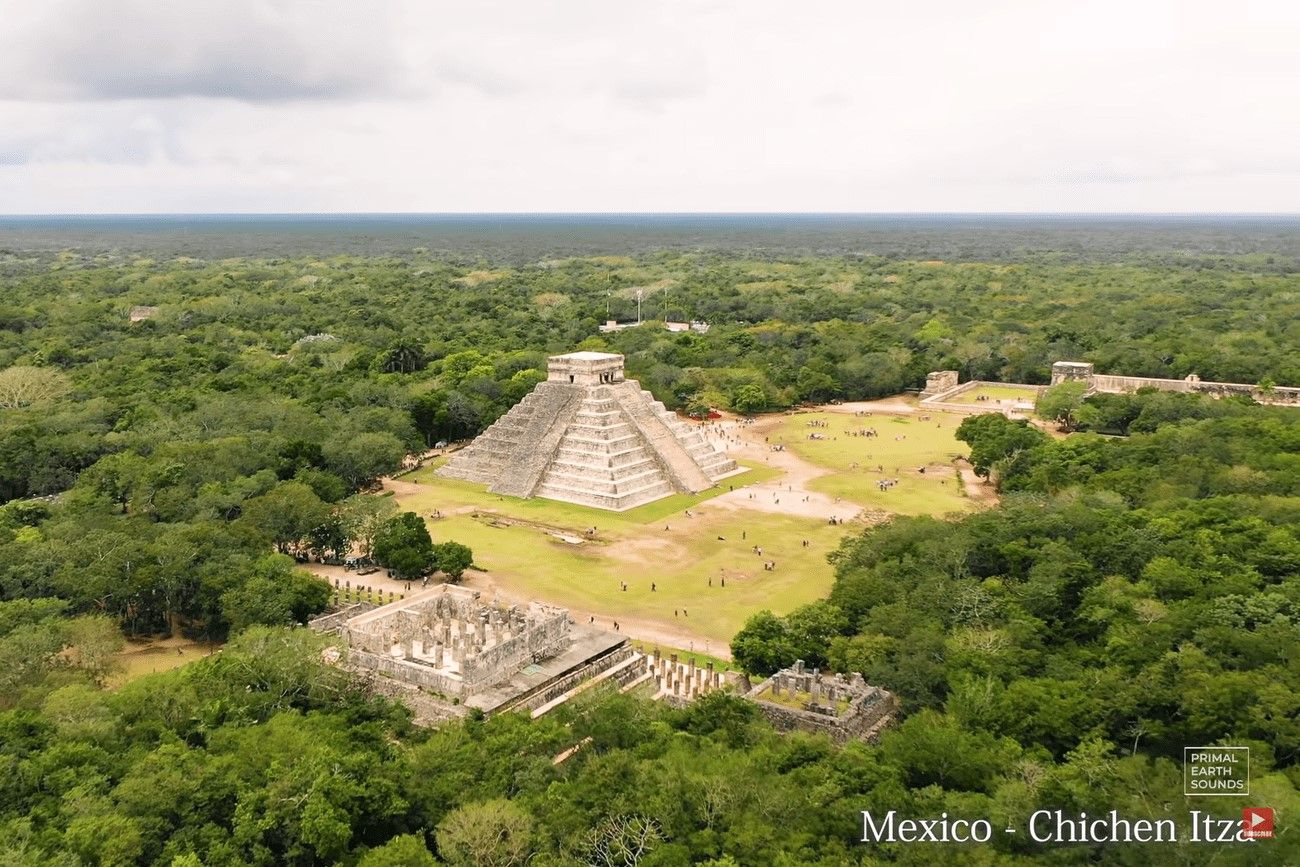 @Most Amazing 100 Places on The Earth 4K/ PRIMAL EARTH/ YouTube.com
20. Lampedusa in Italy
In the photo, you can see the southernmost island of Italy called Lampedusa. The island looks quite unusual - the whole secret is in its volcanic origin. The northern and western parts of the island are hard to reach for tourists, but the eastern and southeastern coasts are rich in magnificent beaches, where people from all over the world come to rest. Getting to the island is not so difficult, because Lampedusa has its airport, connected by direct flights to Sicily and mainland Italy.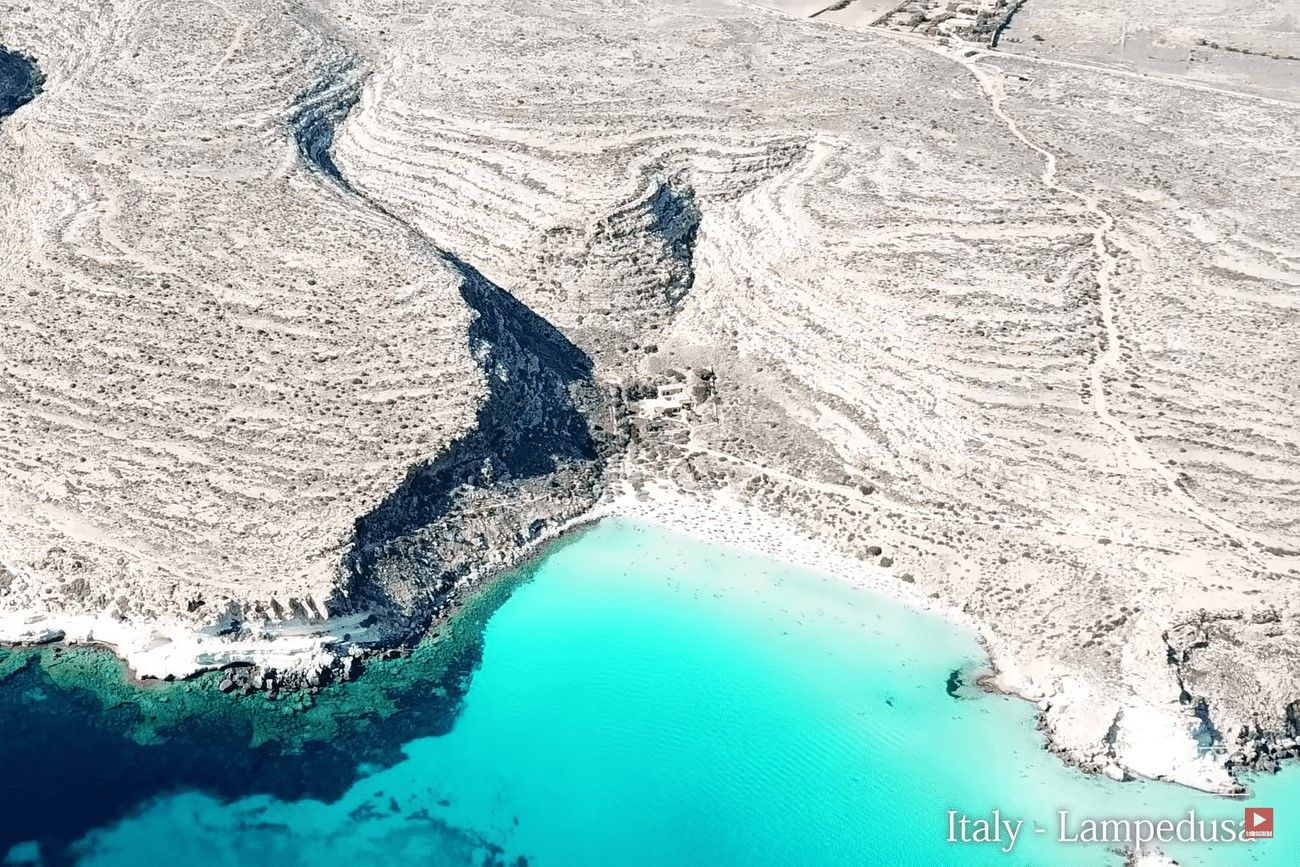 @Most Amazing 100 Places on The Earth 4K/ PRIMAL EARTH/ YouTube.com
21. Amazing place in the USA!
Here is Yosemite National Park, one look at which is enough to make you want to visit this unique place! This is one of the most beautiful reserves in the United States, located in California, in the Sierra Nevada Mountains. On this vast territory of the park of 3026 km², you can see huge rocks, picturesque valleys, lakes and rivers of incredible beauty, and even waterfalls! By the way, this unique area arose millennia ago under the influence of a huge continental glacier! About 5 million people come to Yosemite National Park every year, and since 1984 the park has been under the protection of UNESCO.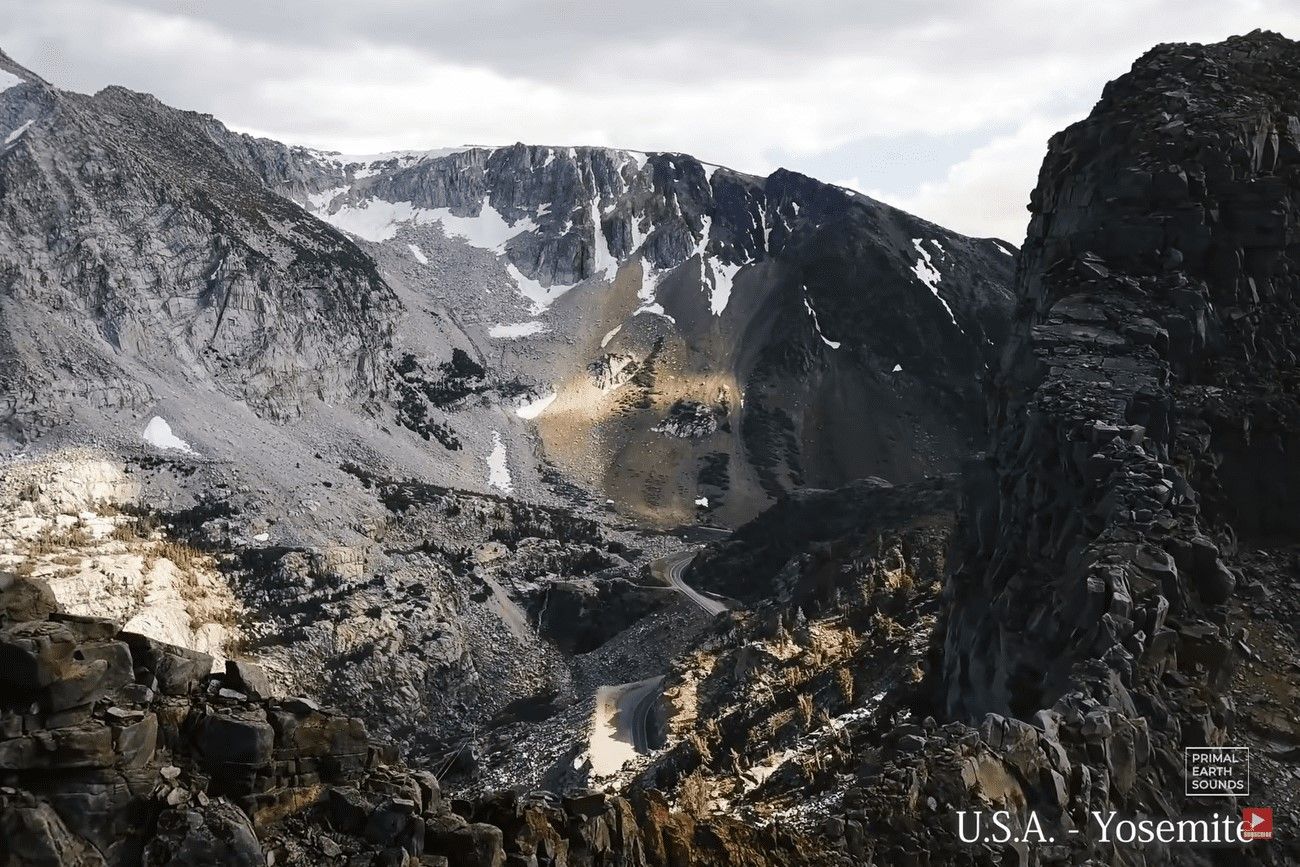 @Most Amazing 100 Places on The Earth 4K/ PRIMAL EARTH/ YouTube.com
22. Sunken ships in Australia
Sunken ships have always attracted researchers and just curious people. So, it is possible to discover a location in Australia where anyone may view the ship's wreckage without diving into the water. The Tangalooma sunken ships, which can be found on the western side of Moreton Island, are particularly well-liked by tourists in Australia. Furthermore, these ships were purposefully sunk to create a breakwater that would protect large boats. There were 15 ships sunk altogether. Moreover, diving and snorkeling are regarded as being among the best in Australia at this location.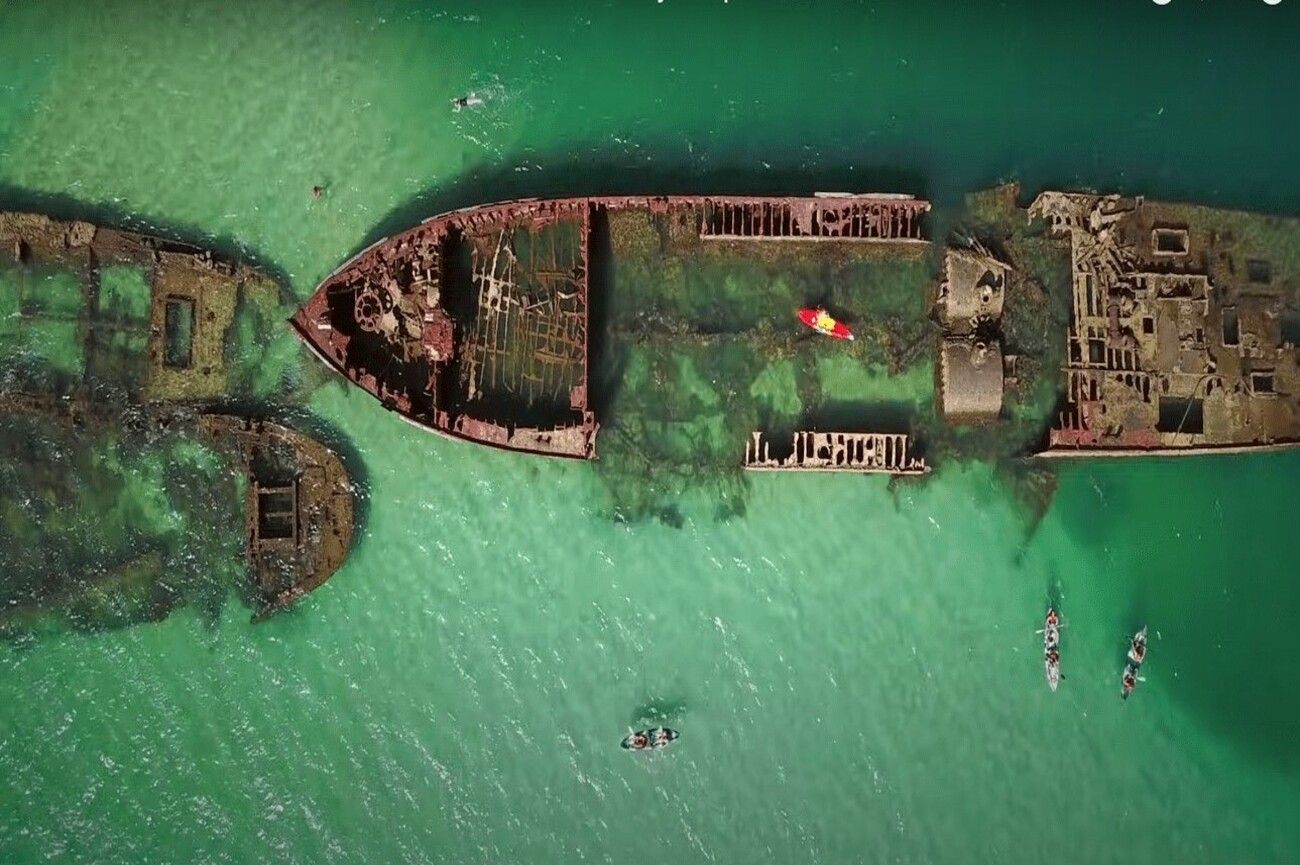 @Australia 8K Ultra HD Drone Video – Outback and Skyscrapers/ 8K VIDEOS HDR/YouTube.com
23. An original masterpiece of architecture
This unique bridge is located in Vietnam on the cliff of Mount Ba Na, at an altitude of more than 1400 m above sea level! The bridge was built in the form of a golden thread pulled from the ground by giant hands. This building looks antique, but it was built in 2018. The bridge is intended only for pedestrians, and its total length is 150 meters. Walking around this place, you can enjoy the beautiful landscapes, take cool photos and give yourself incredible memories for a lifetime.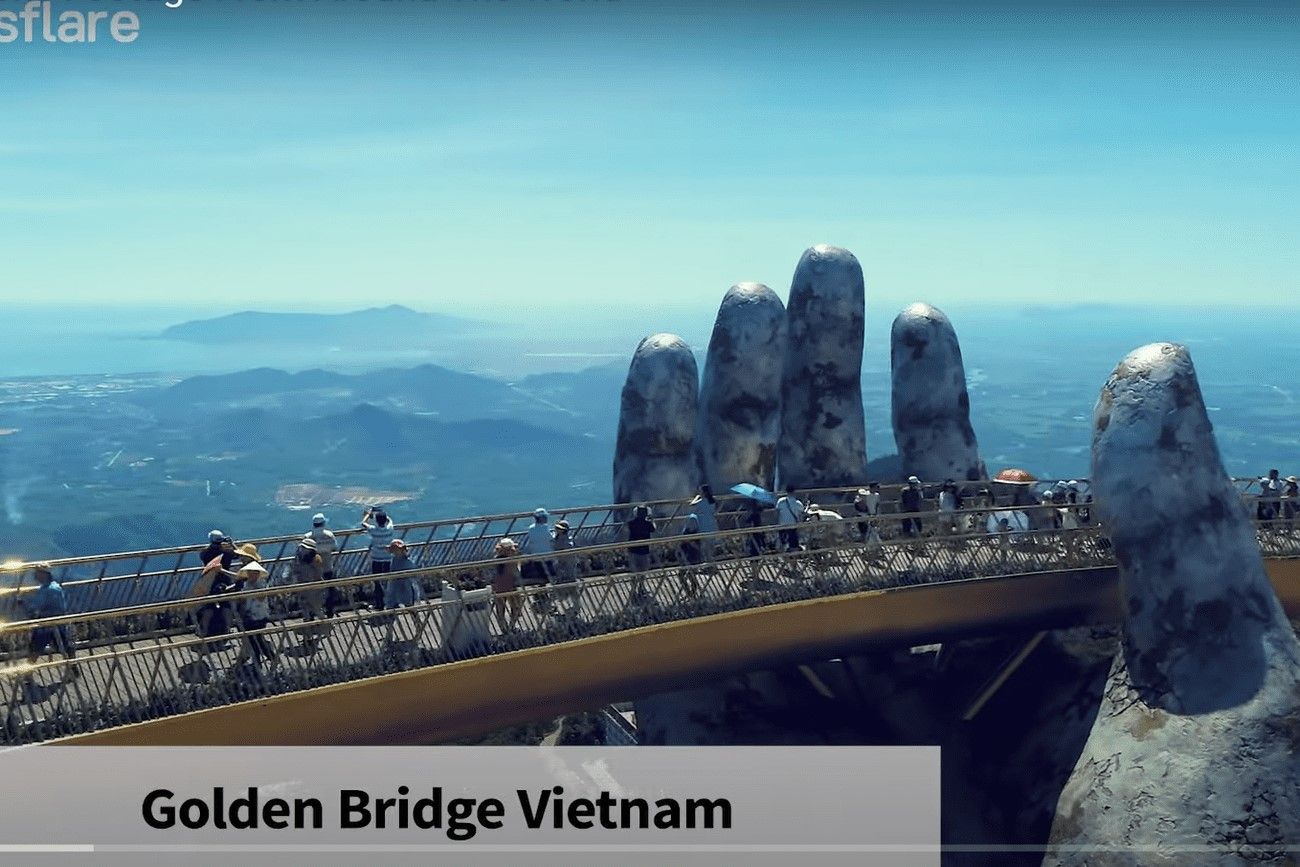 @10 Stunning Drone Footage From Around The World/ Newsflare/ YouTube.com
24. Heaven on Earth
The Maldives is, without a doubt, an island paradise! White sand, clear water - just perfect! Of course, in the Maldives, both standard photo shoots and drone shots are often done. By the way, did you know that the Maldives consists of 1190 small coral islands, and the land area is only 298 km2? Of these, only 200 islands are inhabited, and 44 are adapted exclusively for resort recreation. Also, the Maldives got into the Guinness Book of Records as the country with the flattest relief! There is absolutely no hilly terrain, and none of the islands protrude from the water by more than 2.4 meters.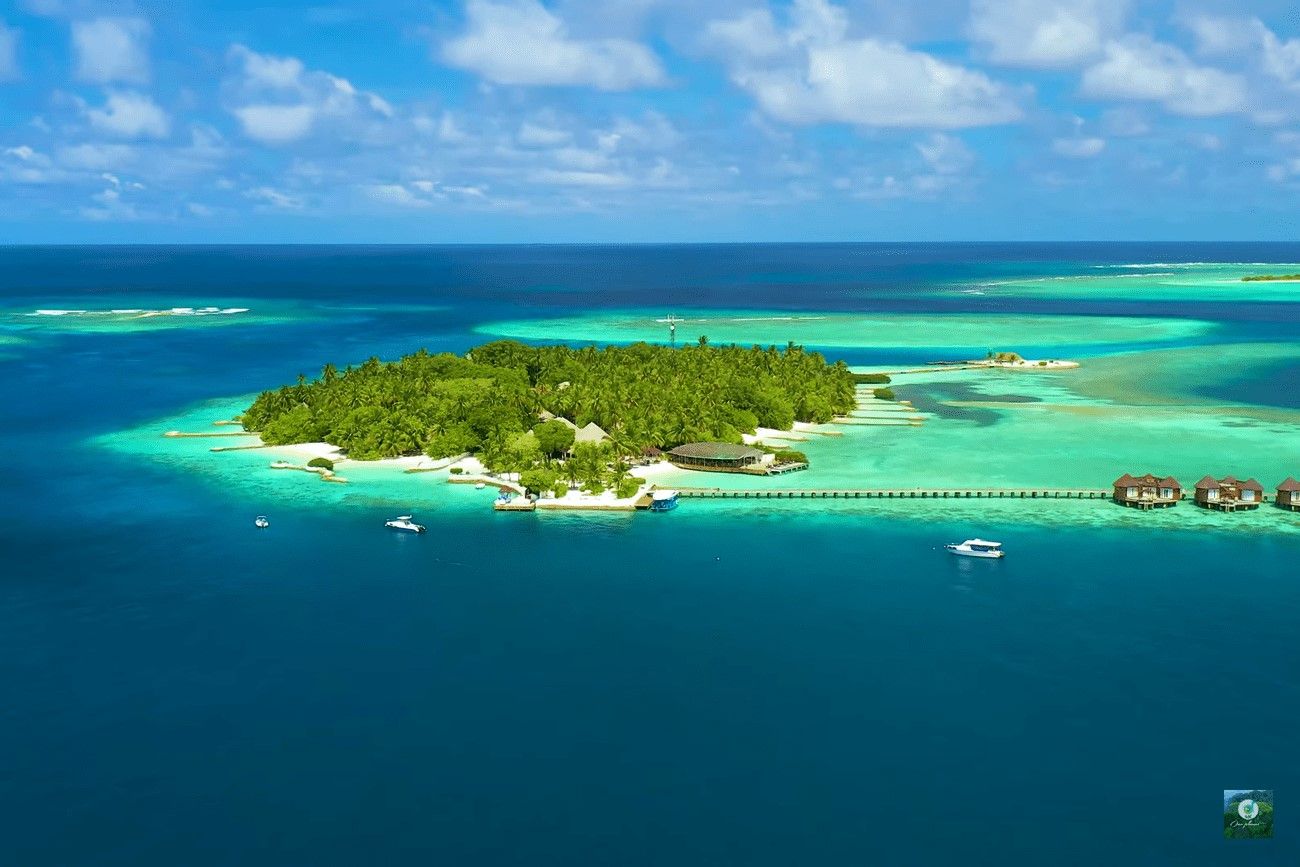 @Maldives 4K - Relaxing Music Along With Beautiful Nature Videos (4K Video Ultra HD) #2023/ Our Planet 4K/ YouTube.com
25. Gates of hell - Turkmenistan
At first glance, this phenomenon really looks like the gates of hell, but in fact, it's a gas crater that has been burning in Turkmenistan for more than 50 years. This "gate" is located in the center of the Karakum desert, about 260 kilometers north of Ashgabat, attracting the attention of tourists from all over the world. But how did this gas crater, which burns non-stop, form? This story took place in 1971 when geologists discovered an accumulation of natural gas in the area, and drilling a well caused a collapse. After that, a deep underground cave filled with gas was formed. To avoid poisoning people with gas, geologists decided to set it on fire, believing that the fire would die down over time, but this did not happen.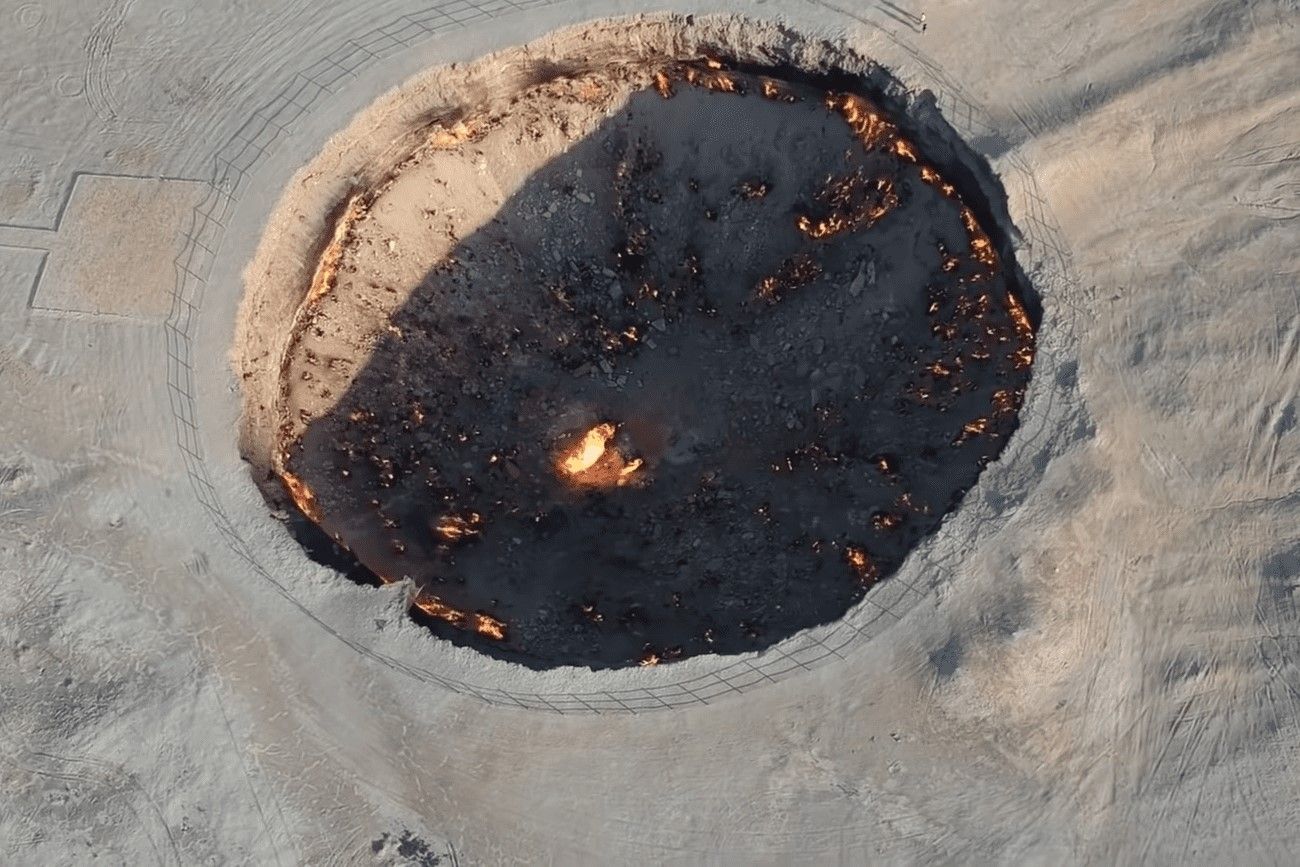 @15 Unbelievable Places that Actually Exist/ Top Fives/ YouTube.com
26. This lake looks so romantic!
This beautiful heart-shaped lake is located in Ontario, Canada. Of course, if you stand on the shore of this lake, you will not see the shape of the heart, but with the help of a drone, you can see it. And it looks very cute! By the way, there are dozens of heart-shaped lakes in the world. Moreover, sometimes even the sea can look romantic. For example, the Aral Sea is shaped like a heart on one side. Unfortunately, this is due to the shrinking of the sea, which is considered one of the most dangerous environmental disasters on the planet.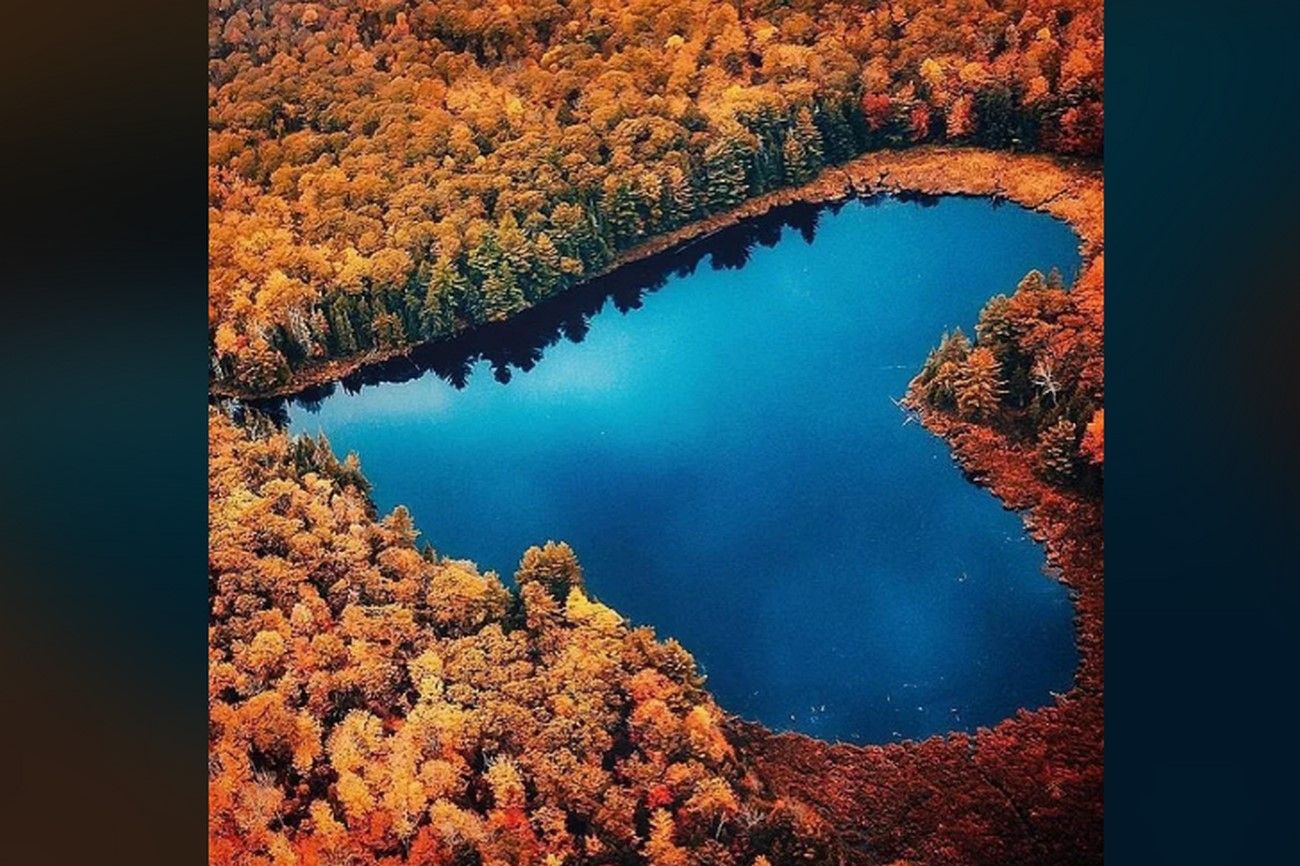 @[deleted]/reddit.com
27. Camels on the dunes
Such an incredible picture can often be seen in deserts, for example, in the Sahara. This largest desert in the world, which covers an area of about 9,000,000 km², has killed many brave travelers who wanted to conquer it! In the Sahara, life is in full swing only around the oases, because it is almost impossible to live in a desert itself on the sands. But how do animals live in a desert, for example, camels? It turns out that humps on the camel's back are fatty deposits, which perfectly protect the animal's back from the hot sun.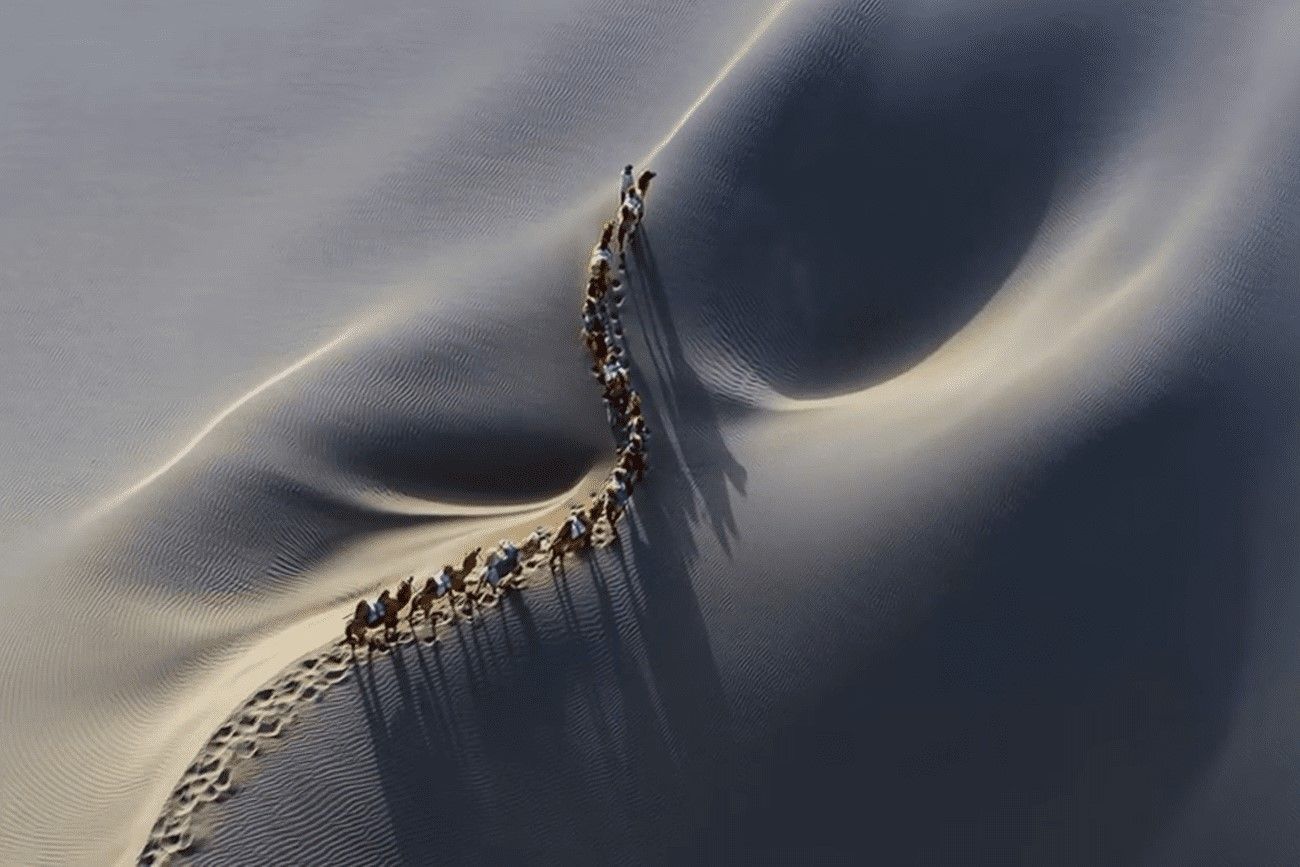 @Top 30 Beautiful Photo by Drone, Flycam - The Better Ideas 🌞/ The Better Ideas/ YouTube.com
28. Liquid rainbow
Another incredible place on earth, namely in Colombia! In front of you is the Caño Cristales River, which is located in the Sierra de la Macarena nature reserve of Central Colombia. It is this river that is called the liquid rainbow for its variety of colors. But how did the water turn into different shades? The fact is that colored algae Macarenia clavigera grows in this river. They visually make the water colored and turn an ordinary river into a fabulous one! Looking at the river, one can observe a riot of colors, the predominant ones being green, yellow, blue, blue, and red.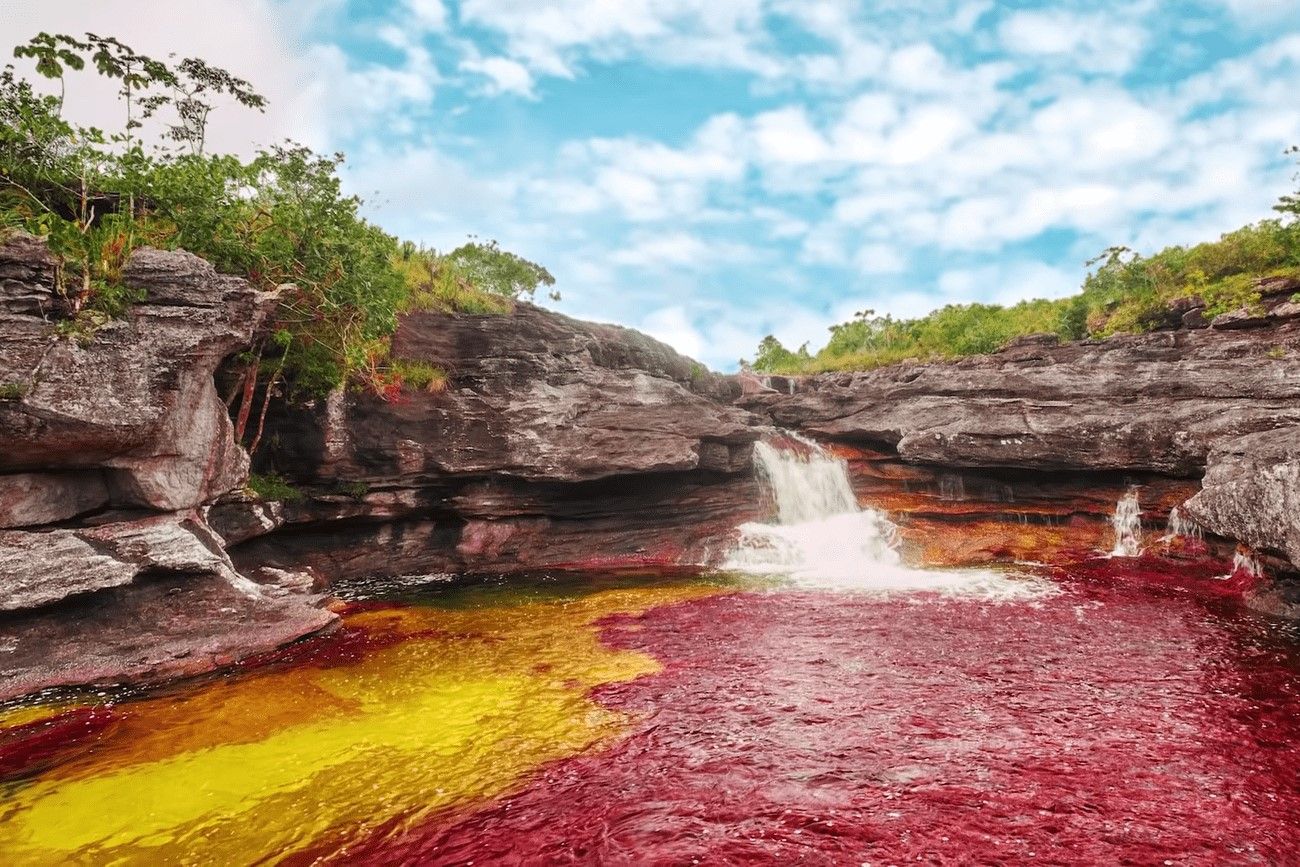 @15 Unbelievable Places that Actually Exist/ Top Fives/ YouTube.com
29. Abandoned island in Japan (Hashima)
Abandoned cities and islands have always attracted millions of tourists from all over the world! In front of you is the abandoned Japanese island of Hashima. At first glance, it looks ominous, right? Visually, this one resembles a ship, thanks to the environment of concrete slabs. Until the beginning of the 19th century, it was part of the rock, but then coal was accidentally discovered there. And after that, the island became an industrial center where many people lived, in particular those who worked in coal mining. However, in the 70s, the coal sources had ended, and people were forced to leave the island, after which no one else lived there.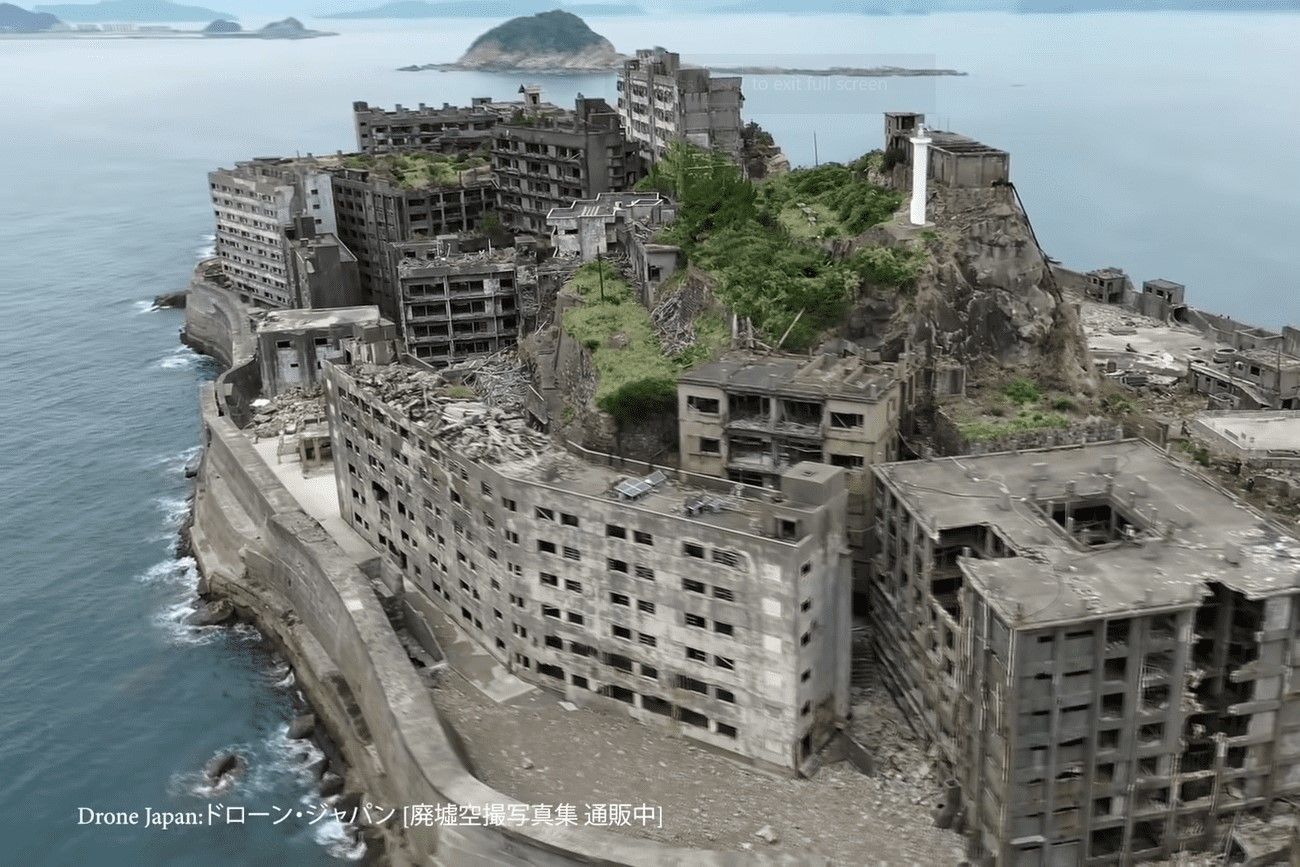 @15 Largest Abandoned Cities in the World/ Top Fives/ YouTube.com
30. You can feel the power of Niagara Falls even through the photo!
Tourists from all over the world regularly come to enjoy the beauty of Niagara Falls. It is shared by two countries, Canada and the United States, and citizens of both these states have access to it. However, it is even more interesting to look at this waterfall from above. And this can be done with the help of drones! Just look how powerful this place is! Simply amazing! We want to note that Niagara Falls is one of the most powerful waterfalls in North America. Just imagine - more than 3160 tons of water falls from it every second.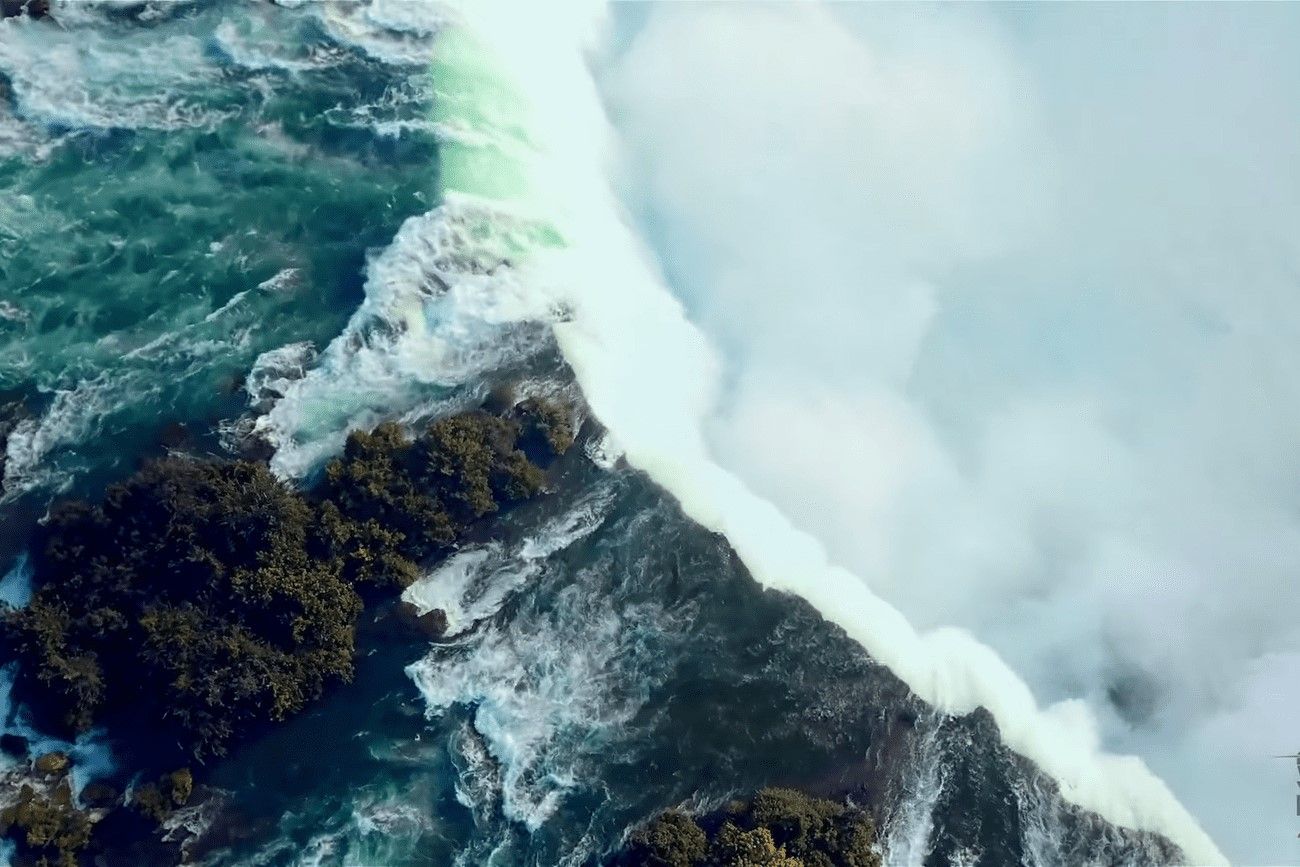 @Niagara Falls, Canada 🇨🇦 / USA 🇺🇸 - by drone [4K]/ Drone Snap/YouTube.com
31. The View of The Whampoa
If you genuinely believed that an abandoned ship had been placed in the middle of this bustling cityscape, we would be happy to pardon you. The question "How did this ship get there and why was it abandoned there?" may be on your mind. However, it turns out that it is merely an appearance. The Whampoa is a well-known shopping complex in the center of Hong Kong that plenty of people like to visit for a variety of reasons. There is no doubting that aerial drone footage offers a genuinely amazing picture.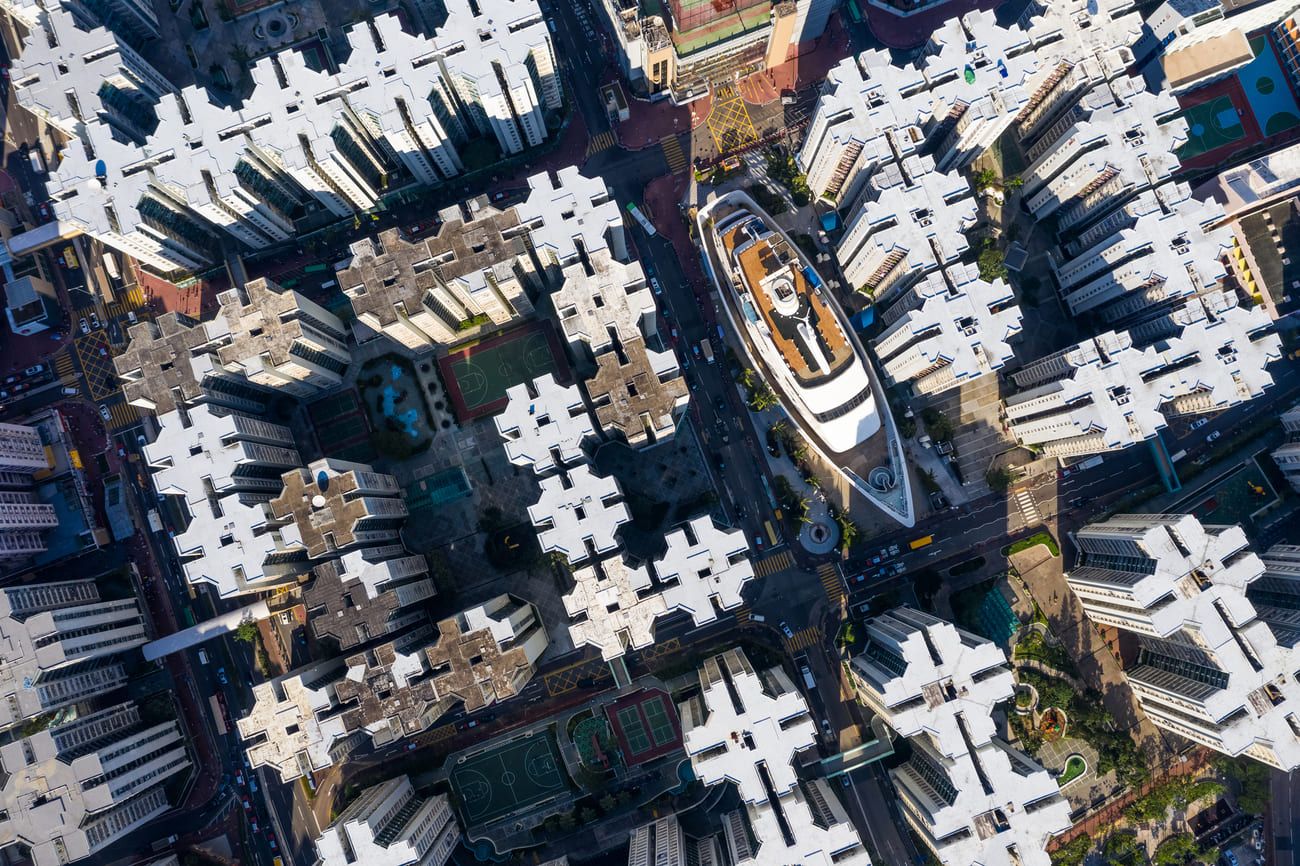 32. The Reality is There
There are a lot of films and documentaries out there that examine crop circles and what they might imply. This image is eerily similar to M. Night Shyamalan's Signs if you've ever seen that movie. People have questioned how these amazing patterns initially came to be. They appear to have been produced by farmers, but might they also be a message from aliens? There is no harm in speculating even though we don't yet have definitive answers.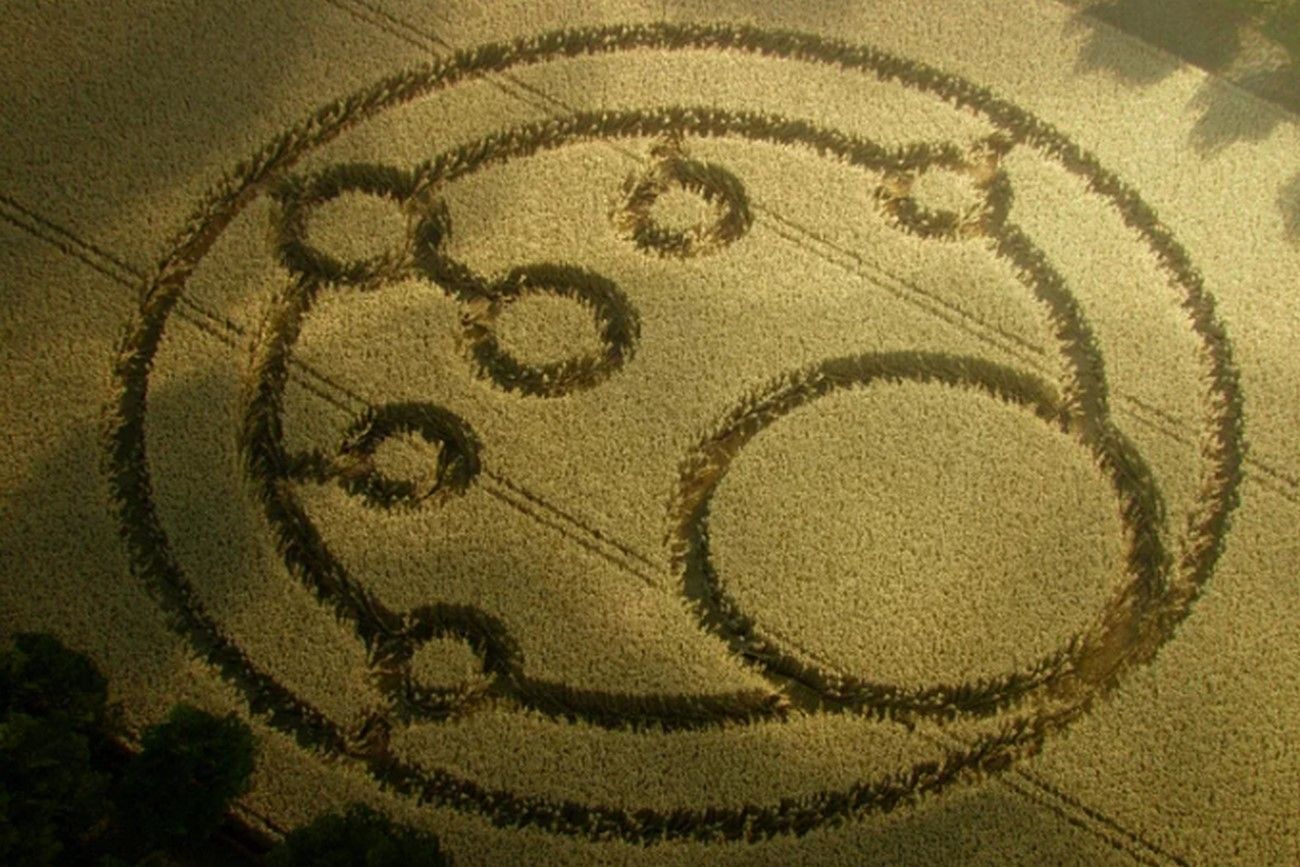 @OrangeOrangeRhino/reddit.com
33. The Greatest Fortification
There aremany other stunning regions in the Netherlands that are worth visiting, even though Amsterdam has a lot to offer tourists. Consider Fort Bourtange, which is situated in the Groningen village of the same name. About 300 years ago, this beautiful star-shaped fort was built. But now that it is reopened as a historical museum, visitors can go there. This drone photograph really portrays the absolute grandeur of its design, despite the fact that it is a wonderful location to observe from the ground.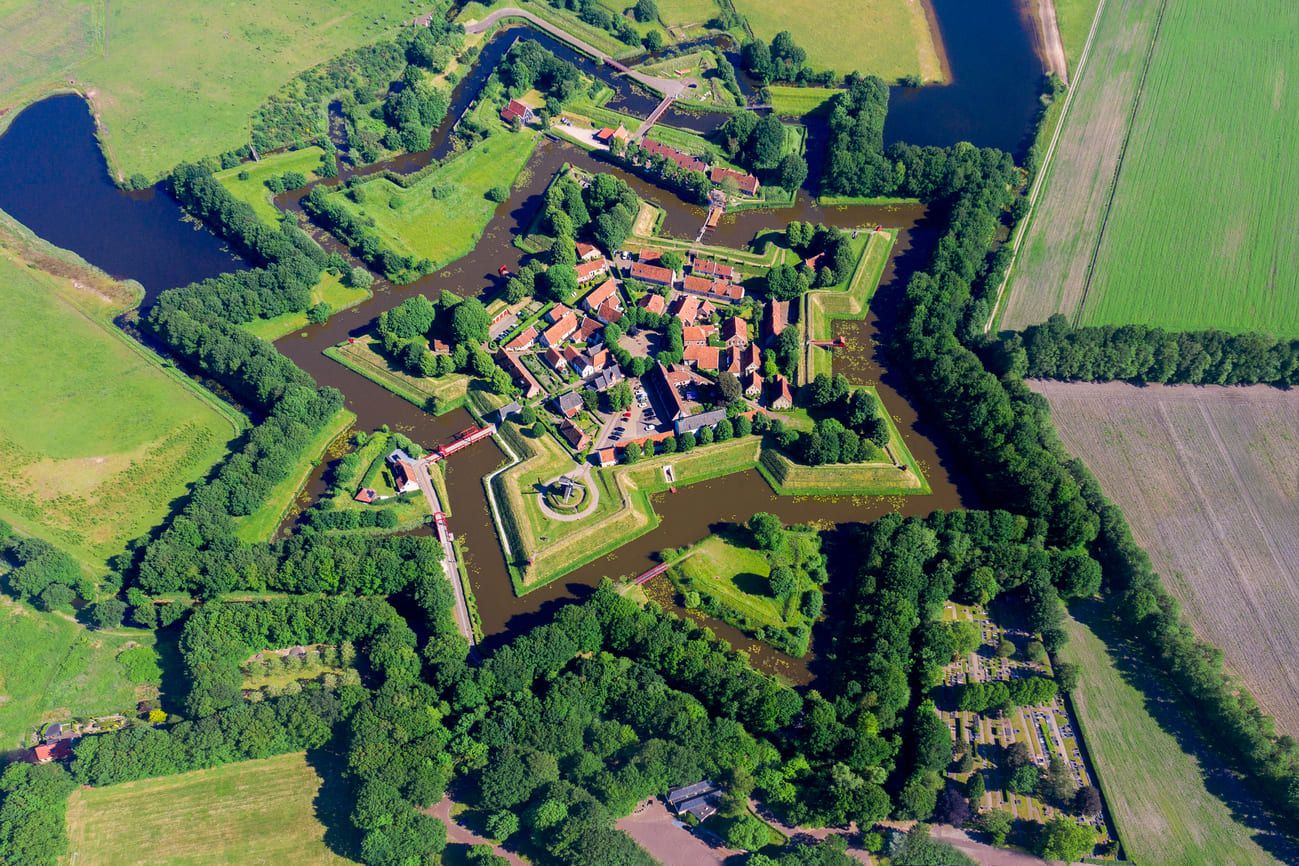 34. A Sniff of Autumn
Romania is one country that seems to have a lot of secluded, winding roads. This amazing aerial photo was taken when the drone was hovering over one of them. The forestry that surrounds this meandering road is covered with crimson, burnt orange, and gold autumn-leaved trees, but despite this, it still manages to stand out like a sore thumb. This particular drone photo exemplifies how man-made structures and the natural world can coexist in harmony.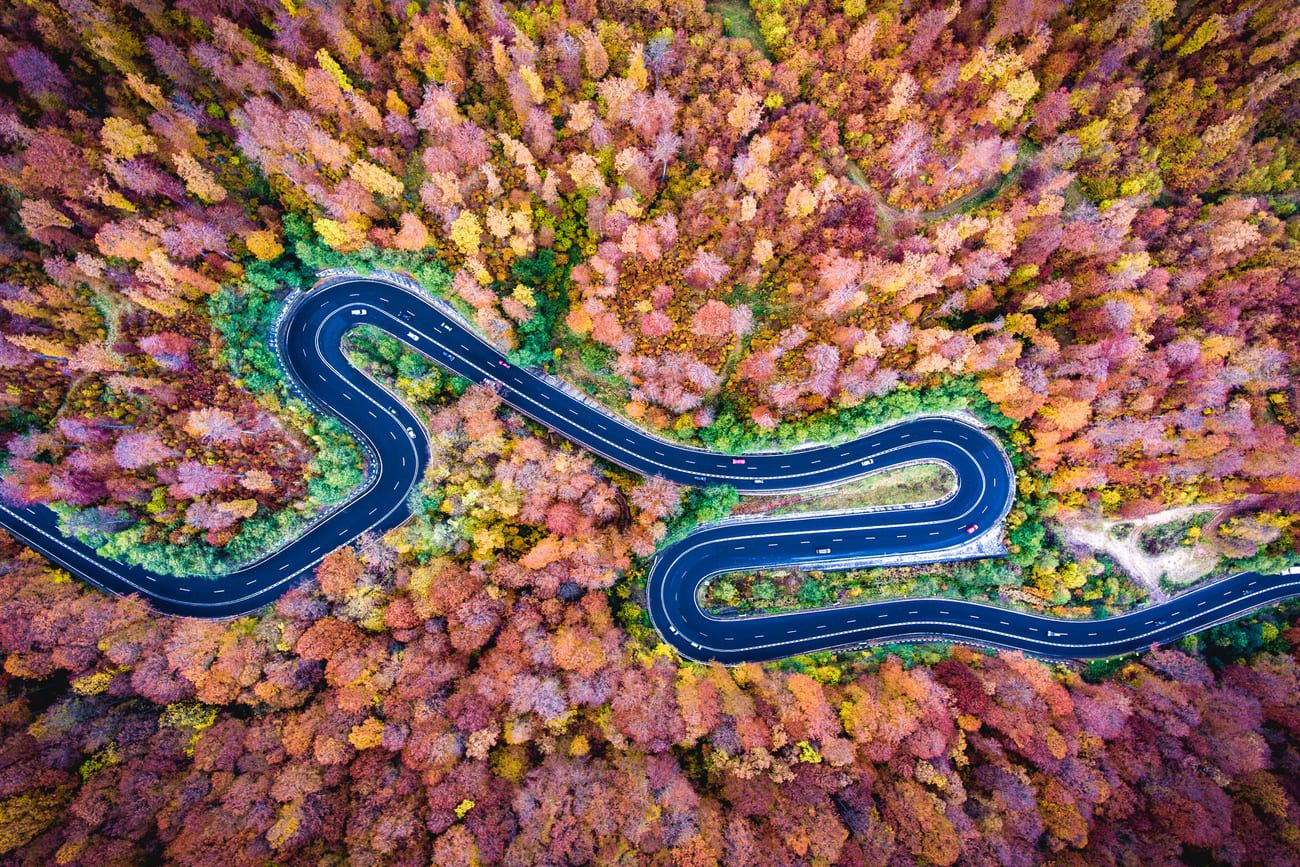 35. Too close to touch
One of the closer-range drone photos on this list captured a lion standing on the ground and gazing upward. The drone's noises are thought to have startled the "lord of the jungle" in this picture, causing it to become fixated on the object ever since. This trait is shared by all cats. They immediately set aside everything else and focus solely on the anomaly as they become aware of it.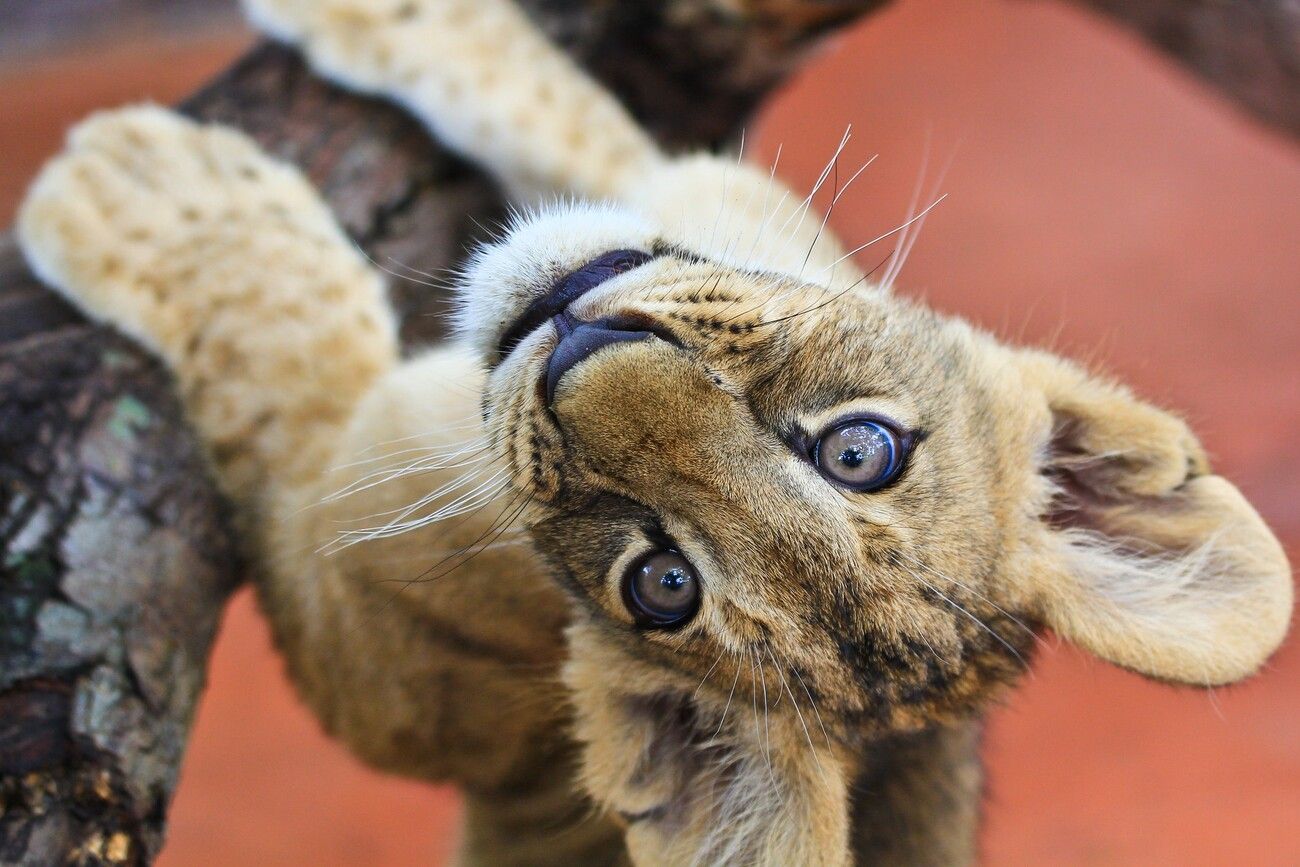 36. Leave now!
While many of these photos feature the varied beauty of the planet as seen from above, this one merely demonstrates how intrusive and obtrusive drones can be to people. This young woman was relaxing in the sun on the roof of her building when she abruptly became aware of a drone hovering over her. She yelled expletives as the drone flew away as she hastily grabbed her broom and rushed after it. Many individuals worry about how invasive drones can be in our daily lives.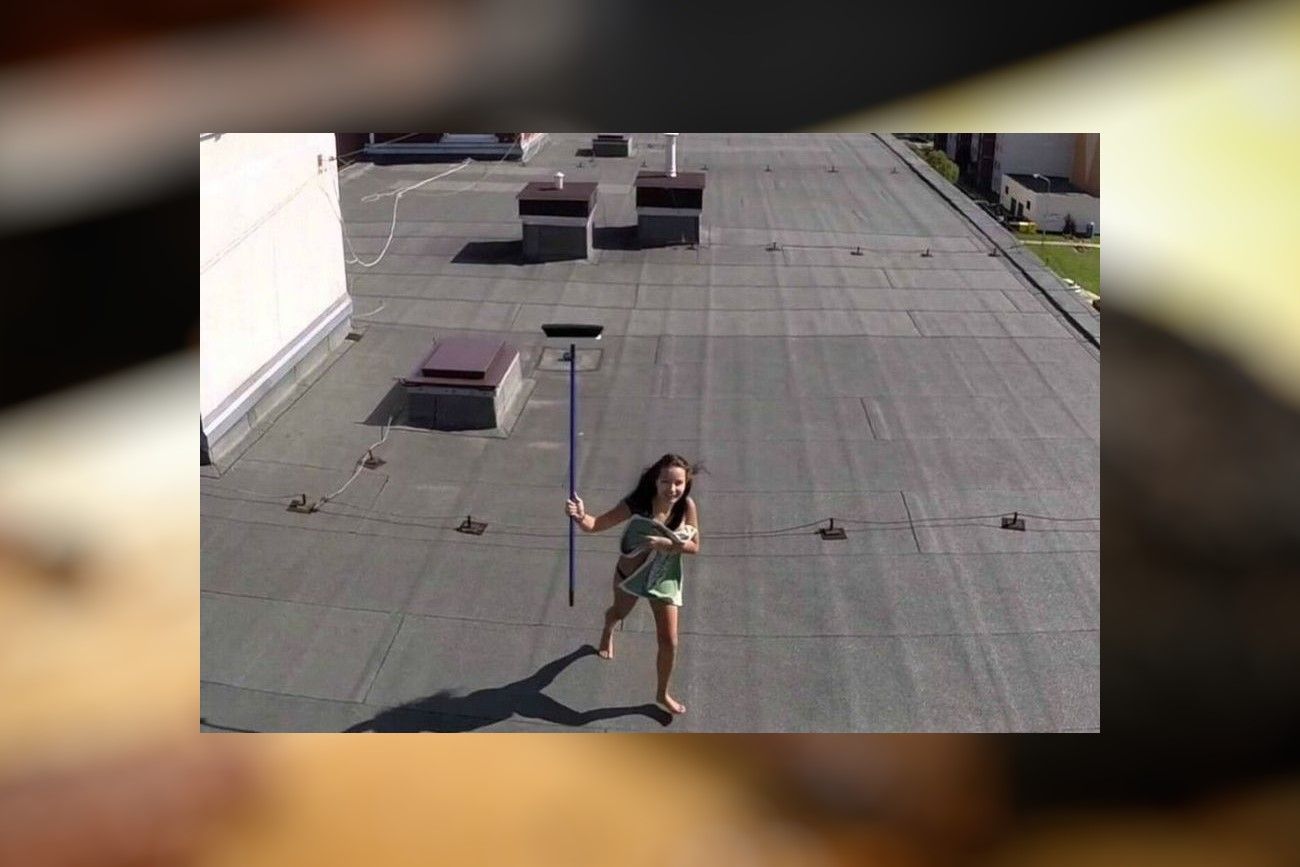 @Hilarious Moment - Pervert Turns His Drone Into A Peeping Tom/Darude Sandsification/YouTube.com
37. The King of Jams
A big traffic gridlock that must be irritating thousands of drivers below is one thing that a drone can capture with absolute perfection. During rush hour, this photo was captured in China over a highway. Despite the fact that all of the vehicles are somehow traveling side by side, there aren't any true technical lanes because there are no markings dividing them. It's incredible how well-ordered all of these automobiles manage to drive. During these extended and crowded hours, people frequently exit their vehicles.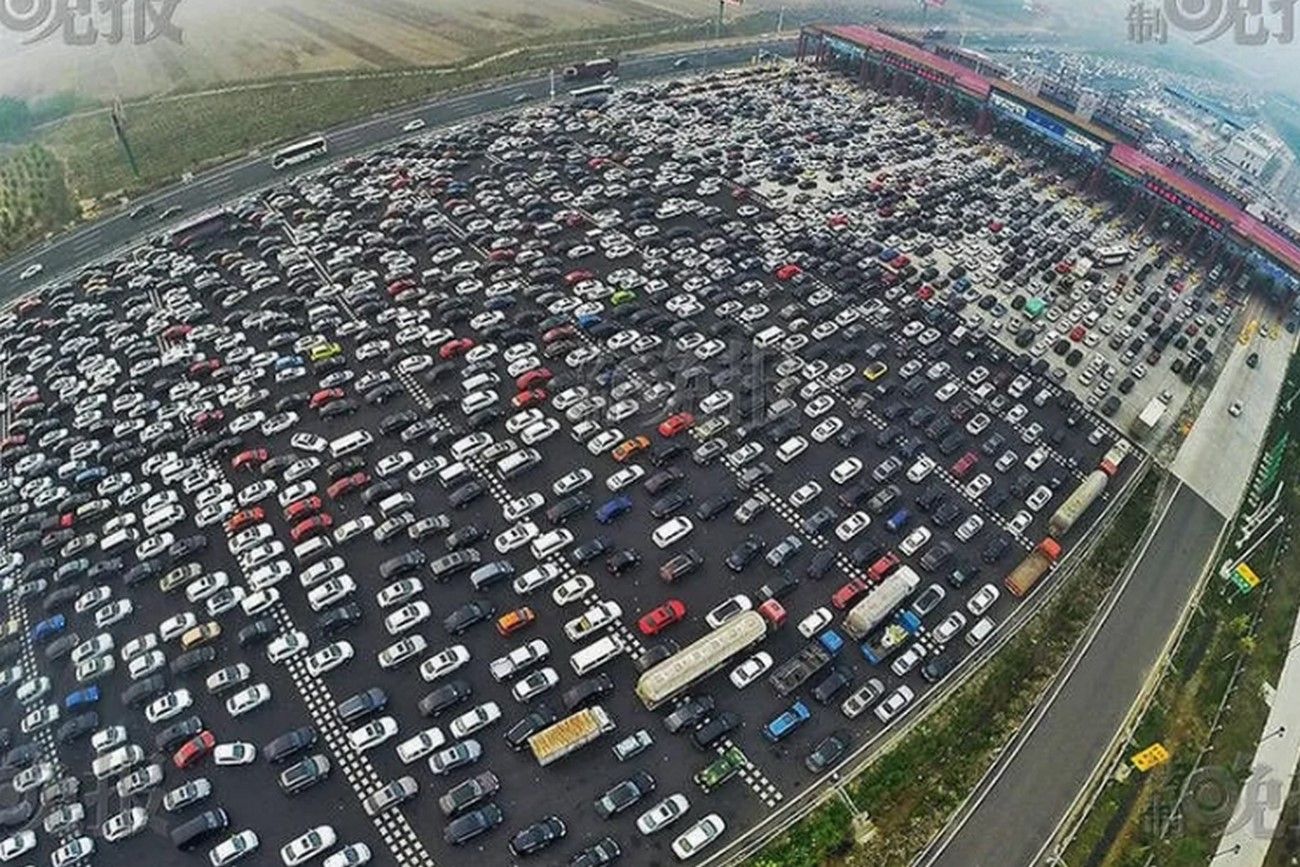 @rich_ard25/reddit.com
38. What a Great Spot to Propose!
This has to be the sweetest thing that a drone has ever captured, don't you think? A pair was found perched on one of the cliffs after someone sent their drone over a range of mountains. Unbelievably, the drone caught the ideal scene when the man knelt down on one knee and proposed to his companion. We greatly hope that the person was able to introduce these new fiancées to the video.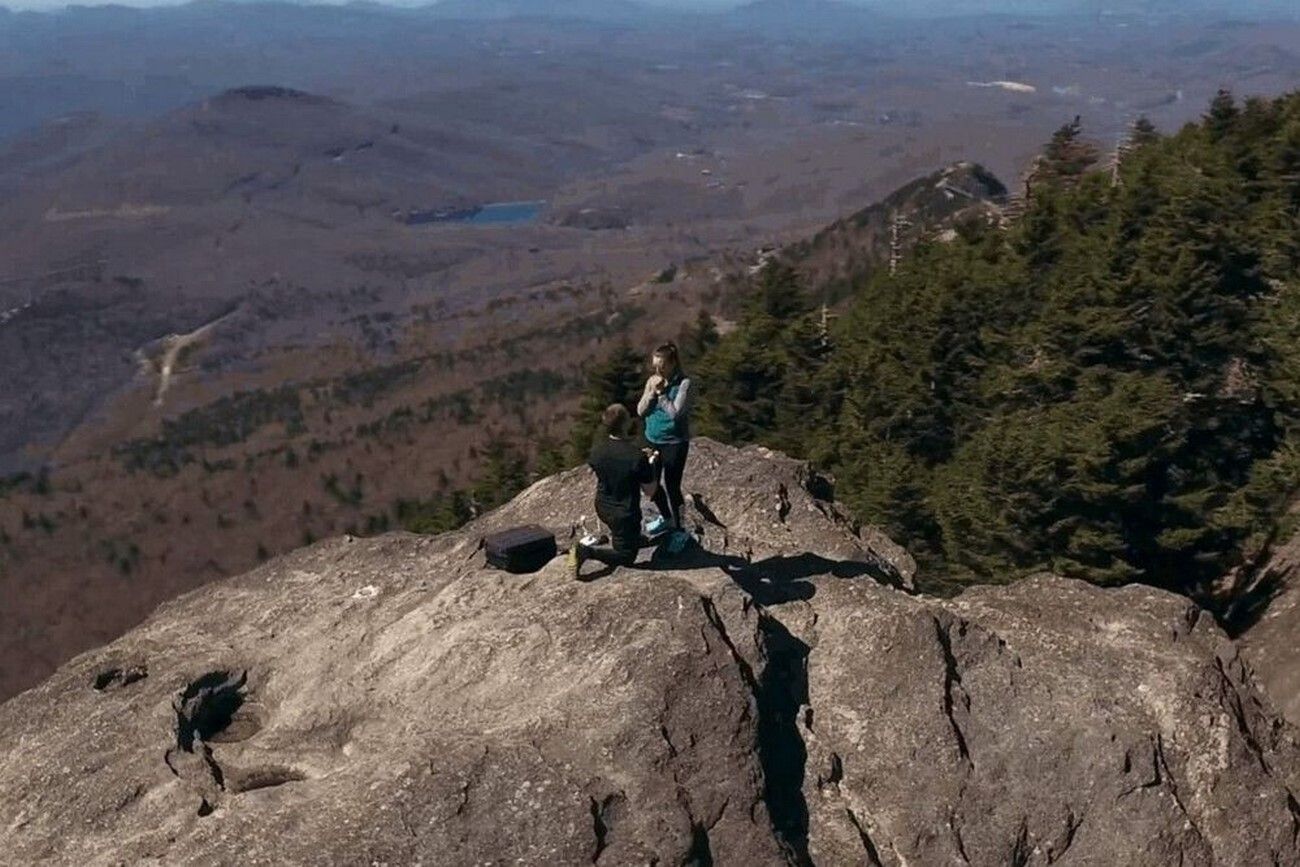 @Mountain Top Proposal Filmed By Drone | MacRae Peak/DronedOut/YouTube.com
39. You Zee Them Now...
People were puzzled by what they were seeing when this drone image first appeared online. The shadows played tricks on some people's eyes, and it took them a few minutes to understand that the photo was taken from above. Clearly, if you pay more attention to the details, you can see that a drone was circling a herd of zebras. You may say that this optical illusion is quite normal. You cannot, however, unsee the zebras once you have seen them.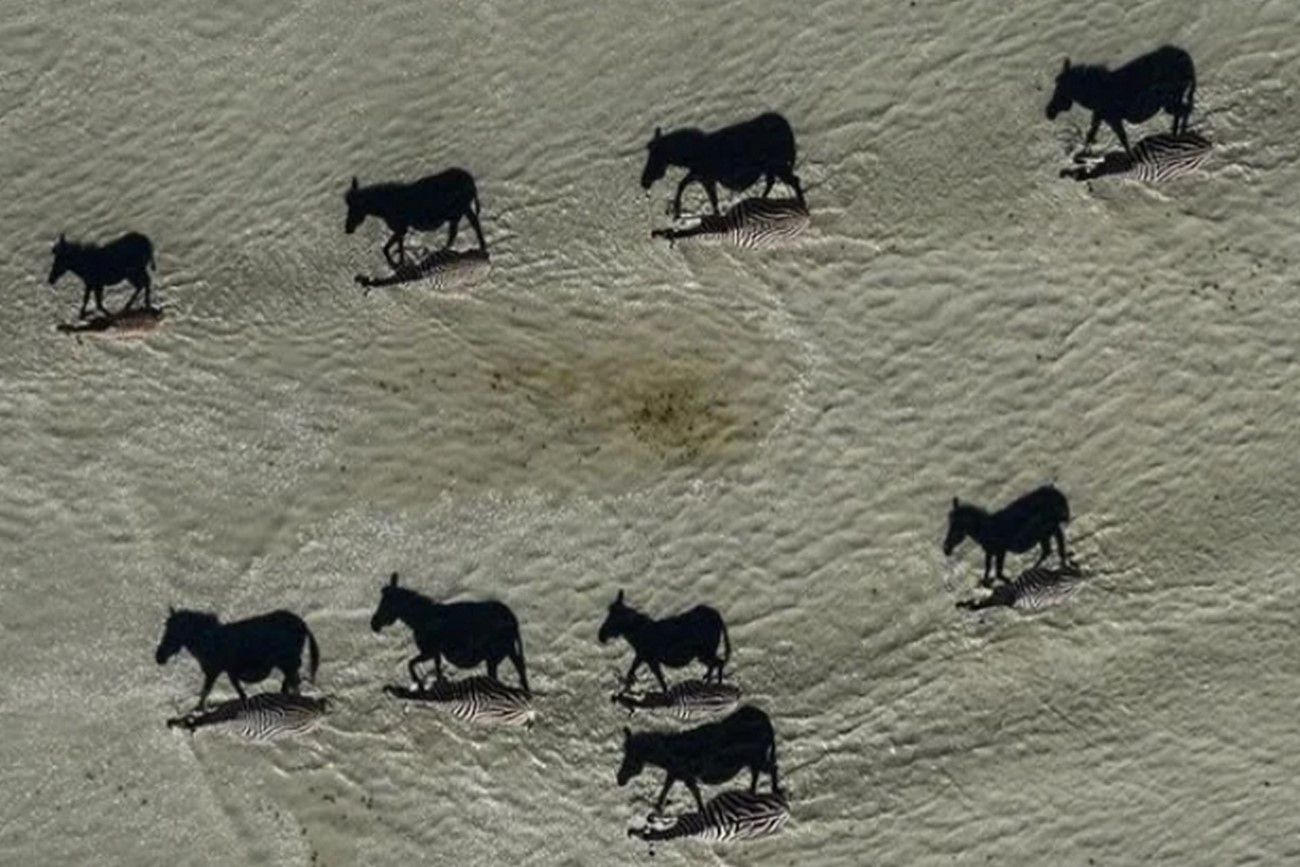 @x19DALTRON91x/reddit.com
40. The Straighter Path
It was a beautiful winter day to fly a drone over this region of the Pacific Northwest. From above, the trees continued to be vivid red while the snow had properly rested on the top, making for a lovely contrast. At sea level, it was about -5°F, but at 14,000 to 15,000 feet, it was -20°F. Additionally, it was really windy, the photographer reported. This is the chance of a lifetime to go directly through a winter paradise.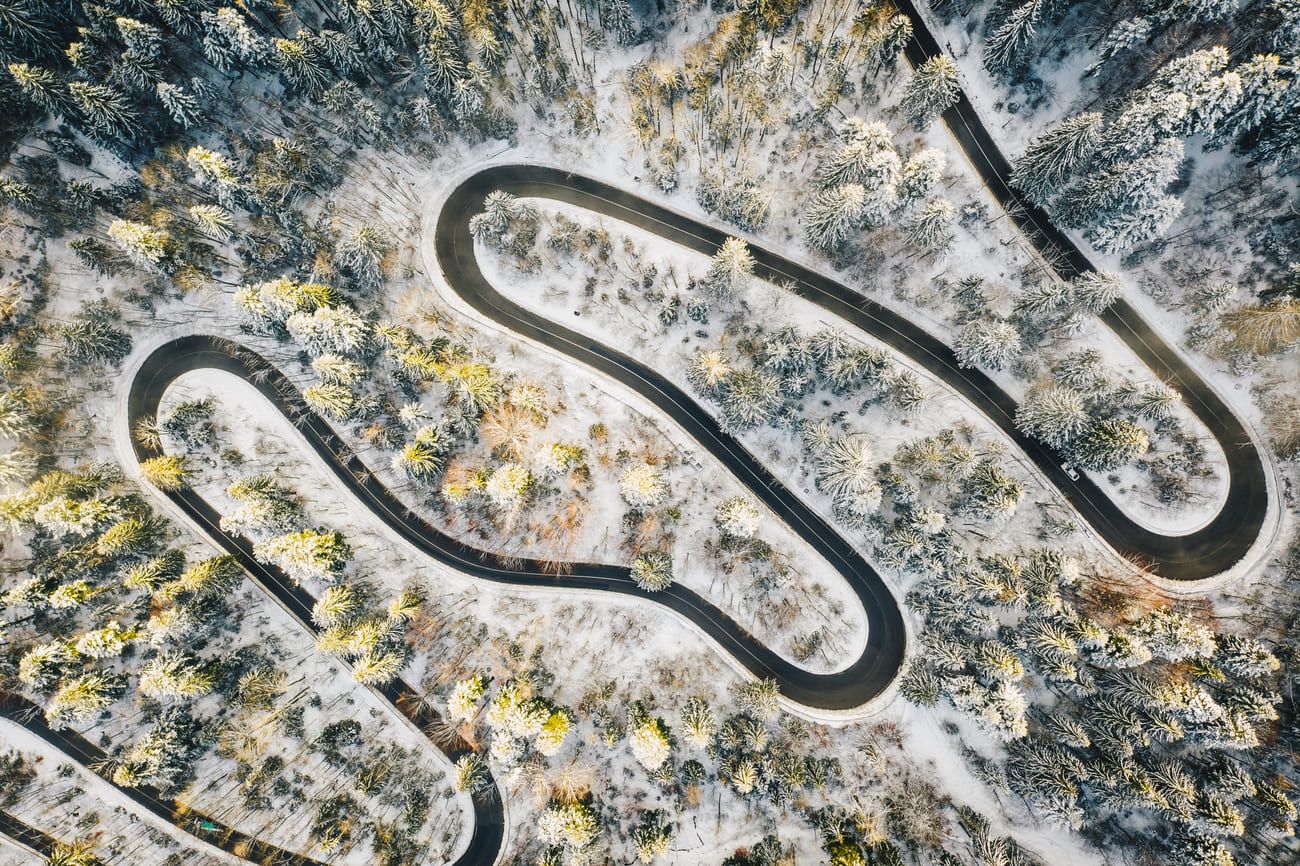 41. Barcelona at the Pinnacle
If there is one area in the world where drones can capture beautiful images, it would have to be Barcelona. Sagrat Cor Church is unquestionably a lovely place to see. This church is situated on Mount Tibidabo, which is so high up that the statues there are frequently shrouded in clouds. This church, which is also known as the Temple of the Sacred Heart of Jesus, was built by Spanish architect Enric Sagnier.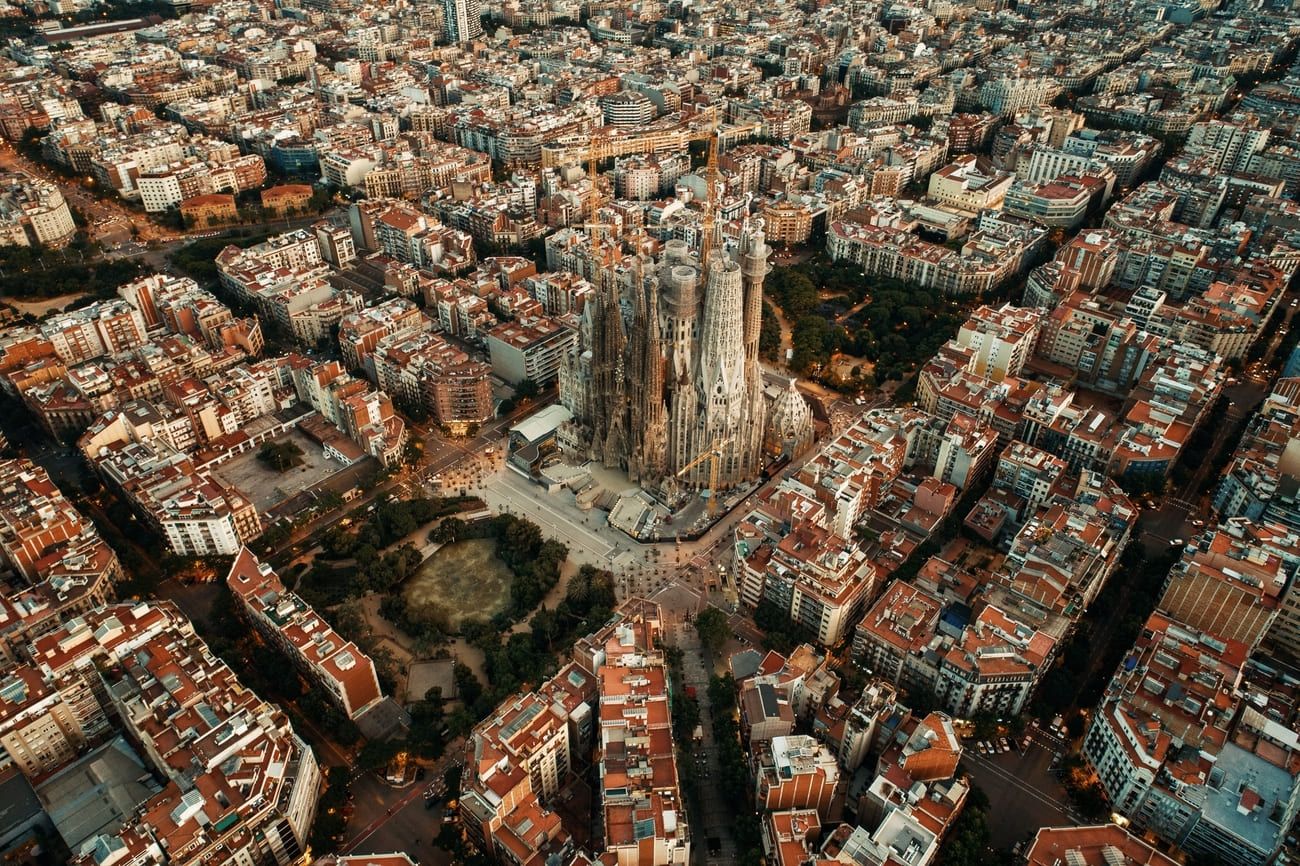 42. Norway is Skilful with Waterfalls
Mardalsfossen must be among the tallest waterfalls in all of Europe. This amazing waterfall, which can be seen in Romsdal, Norway, has a terrifying 1,175-foot plunge, and the clouds below give the impression that it never ends. The water travels beside the Mardola river and originates in a nearby valley. At the base of the waterfall, Lake Eikesdalsvatnet supports and conveys the water. Although there are several wonderful places to capture pictures of the waterfall, the drone appears to provide the greatest perspective.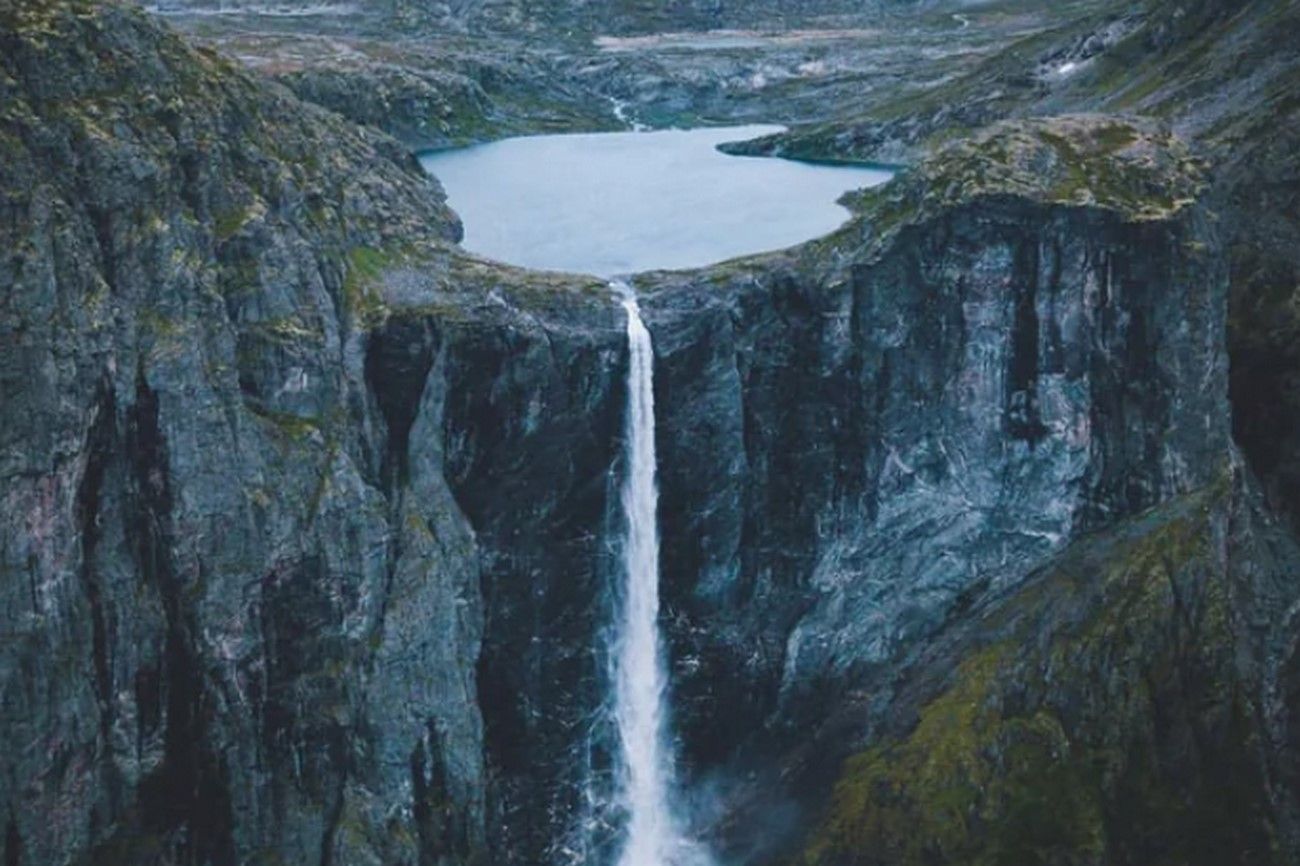 @CryptoExodus/reddit.com
43. A Dive that Breaks Records
There are some people who are able to do this without harming themselves, despite the fact that doing so is extremely perilous. It does, however, call for expertise and exact timing. The diver in question is over 60 years old and "is the world record holder for the Guinness waterfall diving," according to the individual who used a drone to take this picture. This image was captured near a waterfall along the Heilongjiang province's Yellow River in China.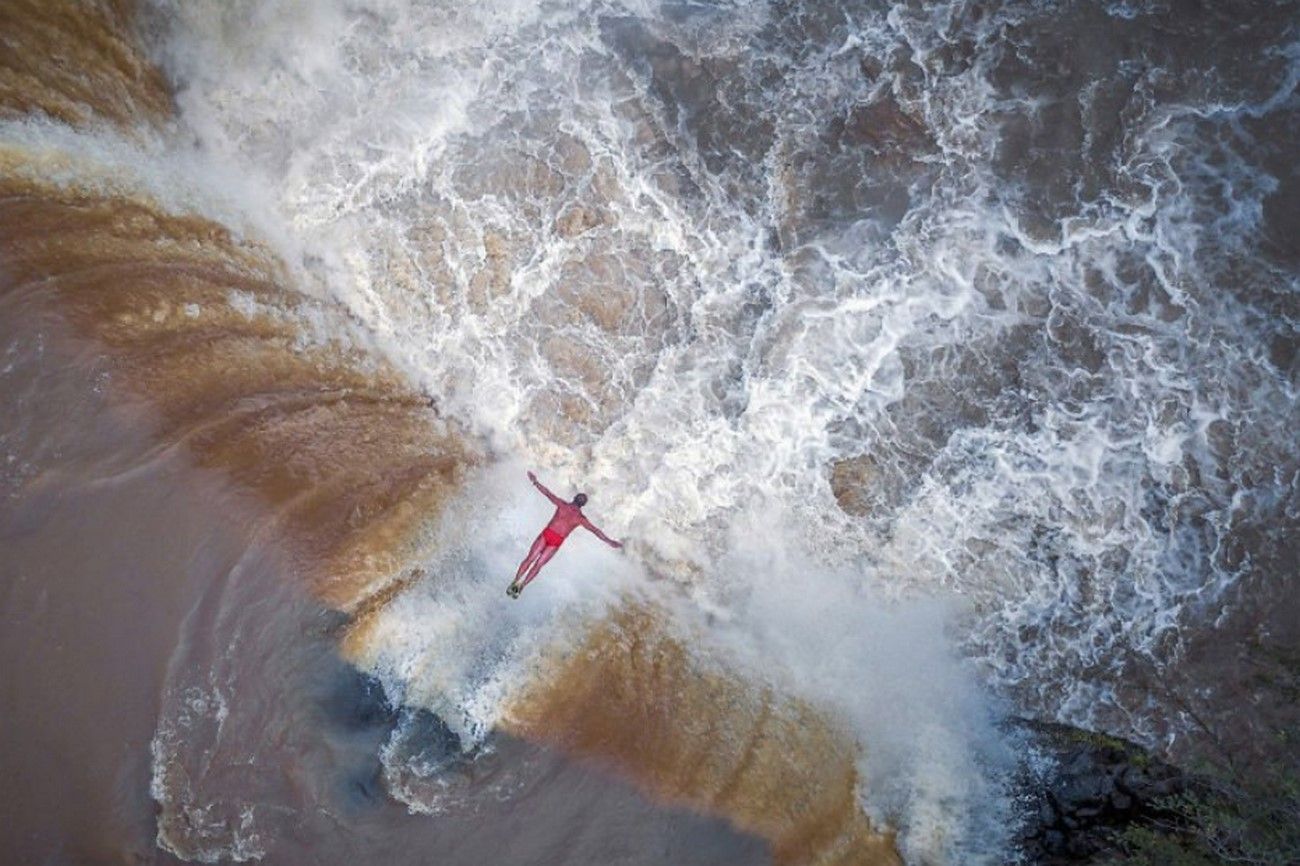 @China's First Ever Cliff Diver Performs at Diaoshuilou Falls/CGTN/YouTube.com
44. An aerial perspective
It isn't referred to as a bird's eye perspective for nothing. People who live in aviaries have an amazing perspective on the world that is comparable to a drone's. But what transpires if a drone is flying overhead while an eagle is in flight? Yes, you do get this kind of breathtaking vista. Large birds, on the other hand, have a reputation for being antagonistic toward the drones with which they share the sky and have been known to pluck at their equipment.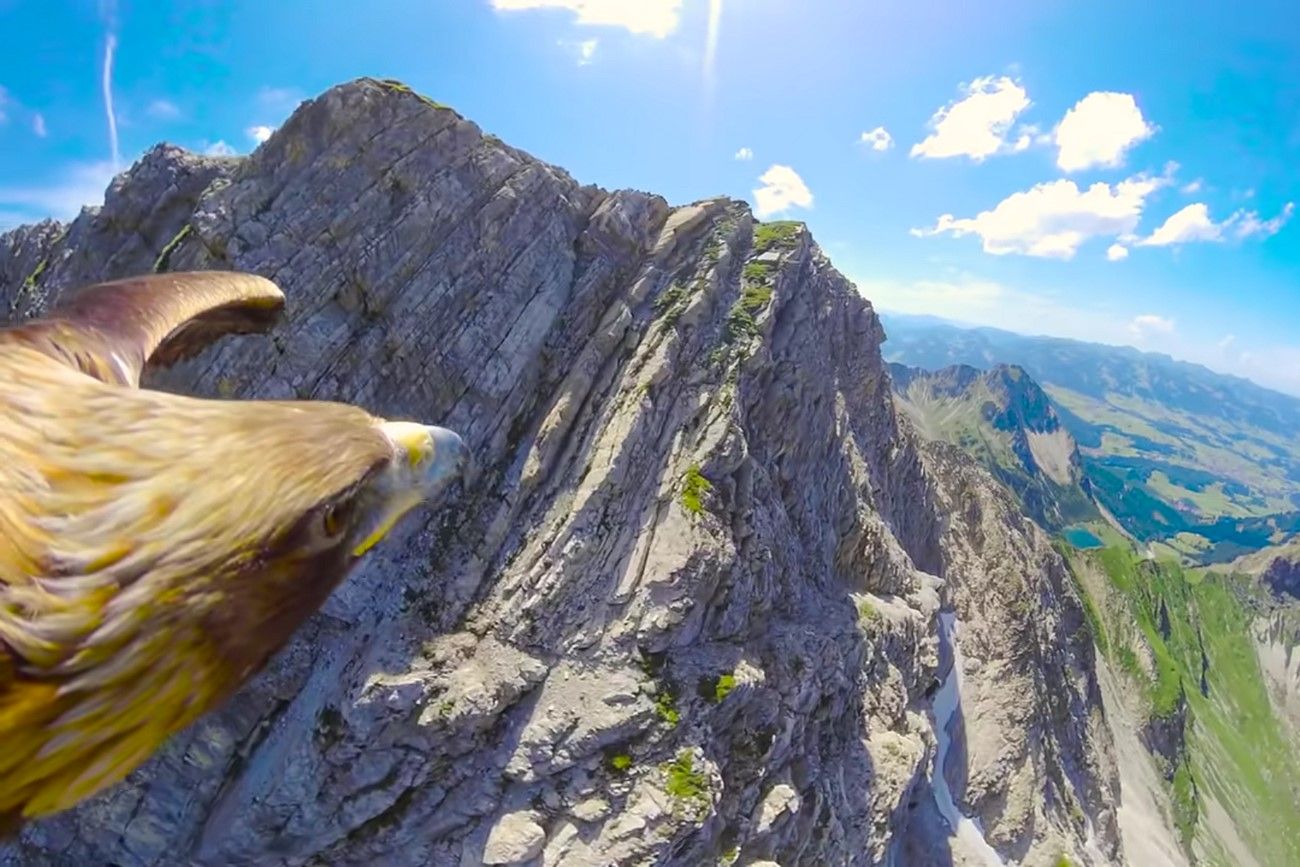 @Breathtaking Eagle POV Flying Over The Alps in 4K/Red Bull/YouTube.com
45. Lily-light in weight
Even the more straightforward images on this list have the potential to be breathtakingly gorgeous. Consider the image below, which was captured by a drone in Vietnam's Mekong Delta. The picture of a woman collecting water lilies was taken by Helios1412 and entered in the 2017 International Drone Photography Contest. Surprisingly, it placed second in the People category. Because of the region's healthy soil, both plants and animals flourish here. It makes sense why this pond area is called "Vietnam's rice bowl."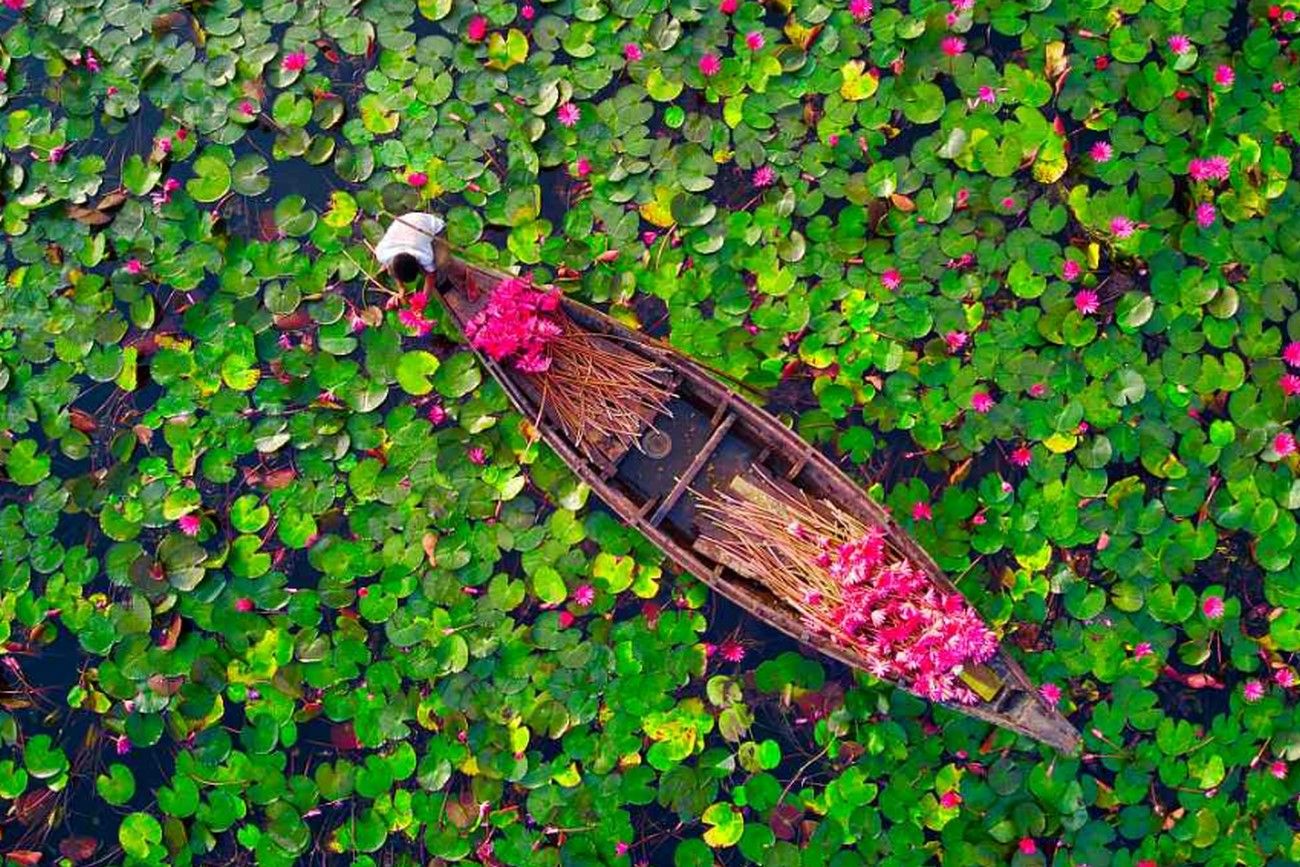 @Vibrant Water Lily Harvesting In Bangladesh/Caters Clips/YouTube.com
46. Super Mexico
Mexico City, one of the world's most populous capital cities, is breathtaking from above. With a stunning 21 million inhabitants, it is the most populous metropolis in the Western Hemisphere, and this picture appears to show one of the busiest areas of the entire city. There are numerous residences and buildings in this hilly area of Mexico City. Of course, the capital city of Mexico is home to a number of historically significant sites, including the Cathedral Metropolitana and the Templo Mayor, an Aztec temple built in the thirteenth century.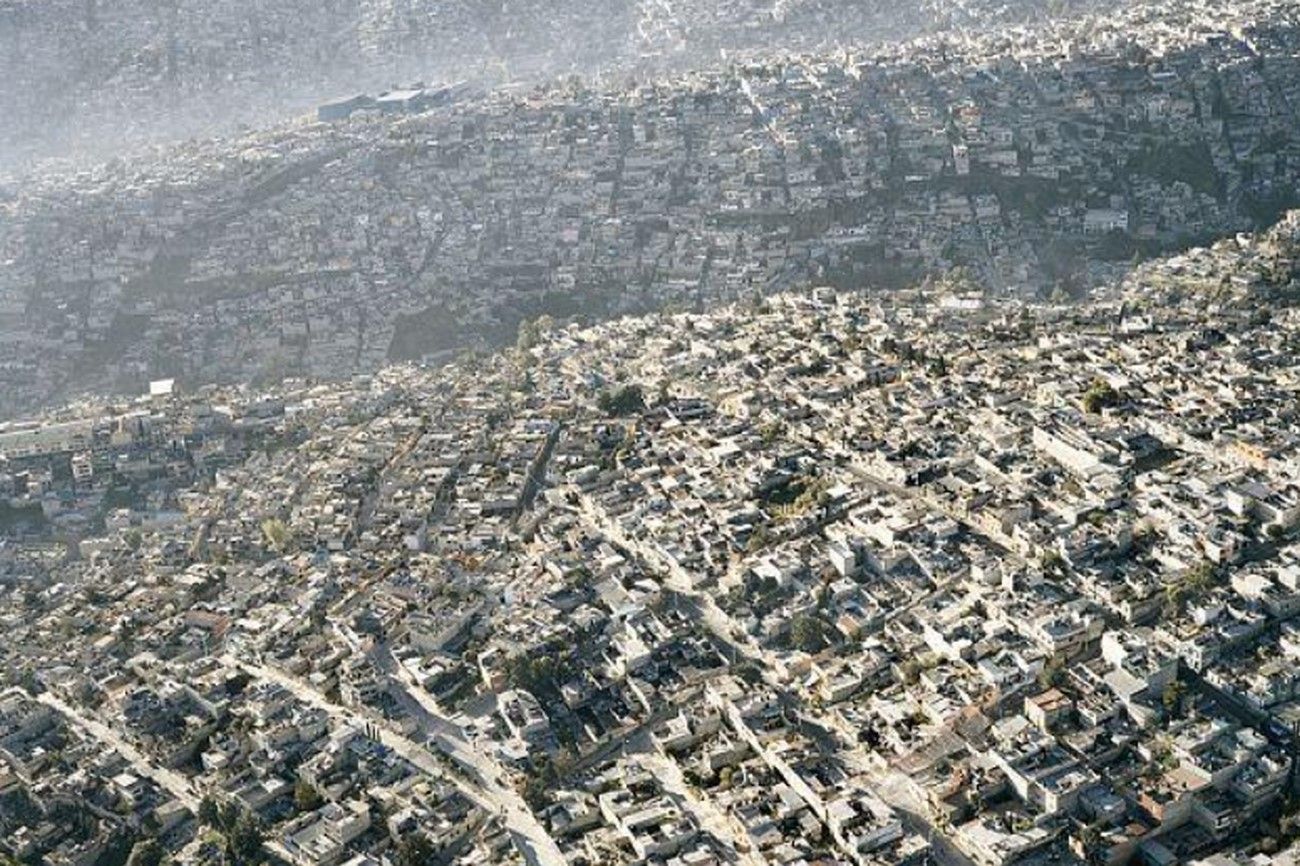 @Postcrapitalism/reddit.com
47. Whale and ship
The drone captured an incredible photo that went viral worldwide. In it, a whale is gently nudging a ship. It is captivating and takes your breath away. The photo truly turned out to be spectacular. The image instantly captured the imagination of people from all corners of the globe. Social media platforms were flooded with shares and comments as the photograph's breathtaking beauty and the rarity of such a sight left viewers in excited.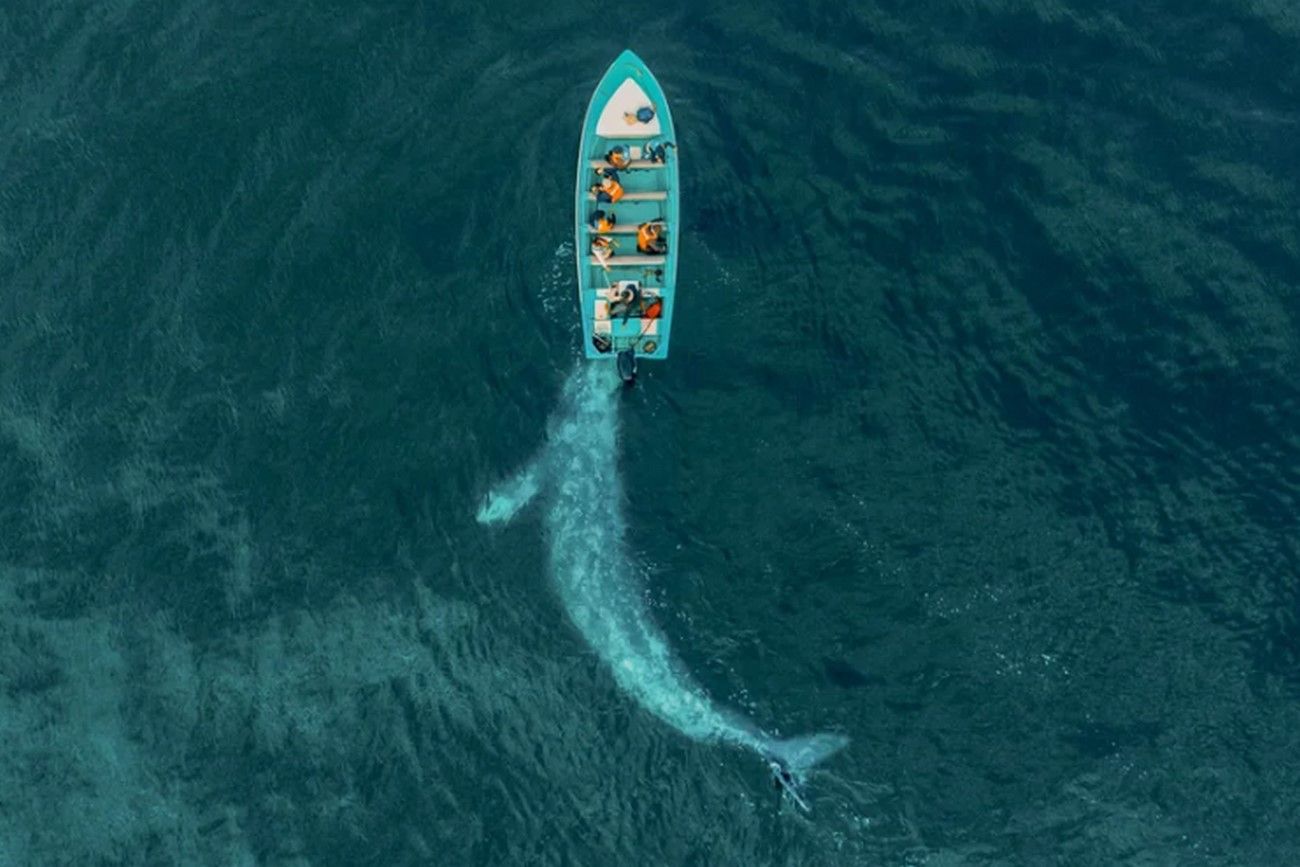 @greatyellowshark/reddit.com
48. I notice a rainbow...
The Santa Maria River and the Gallinas River combine to make the incredibly amazing waterfall known as Cascade de Tamul, which is well renowned for its turquoise waters at the bottom. While a panga, a native wooden canoe, can provide excellent vistas, this drone undoubtedly had the finest vantage point. It appears that there is also a beautiful cave in the middle that is worth visiting. You find yourself in a river that is suddenly the bluest you have ever seen, MSalazar stated. Fresh waterways, lovely canoes for rowing, and a breathtaking waterfall.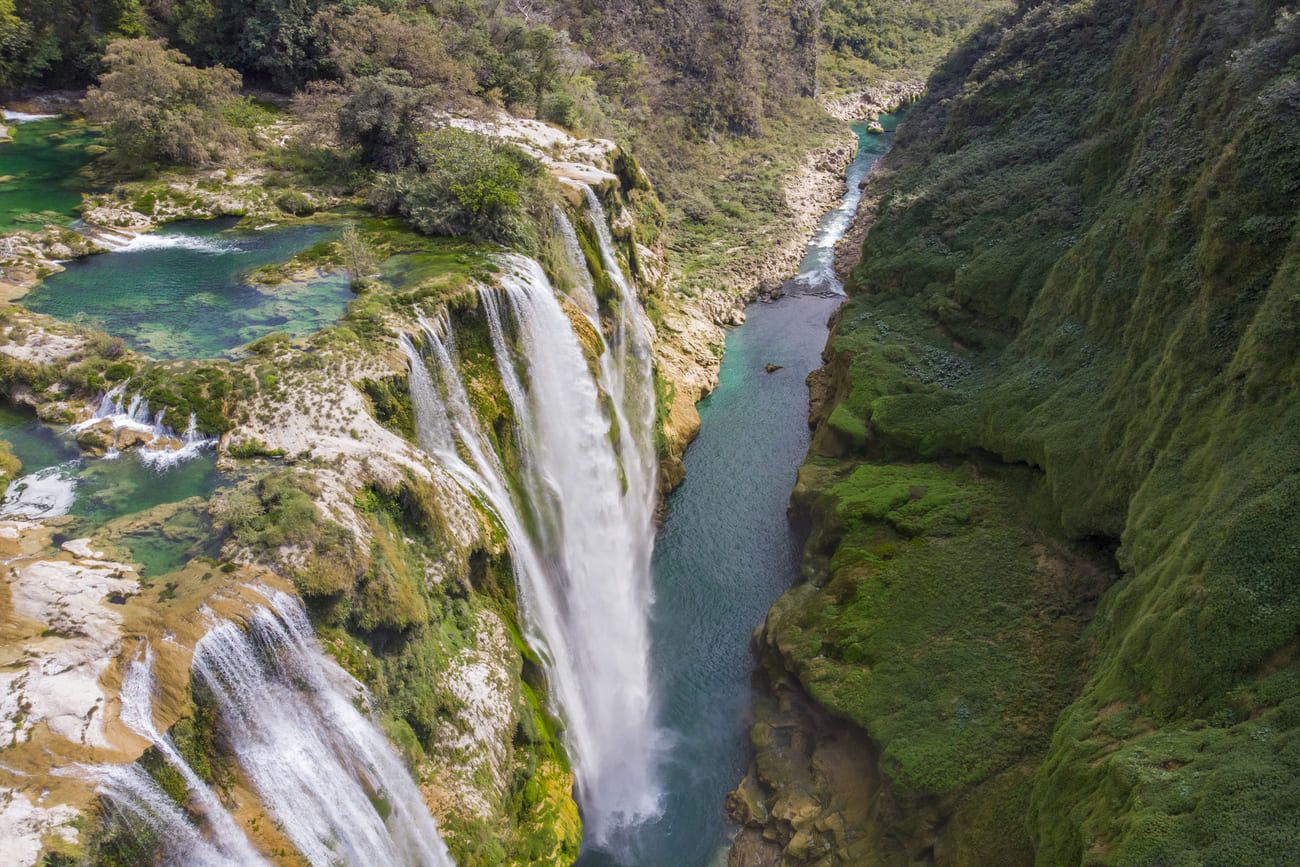 49. Flamingos at Lake Logipi
The sun's rays illuminate a group of flamingos as they feed in the shallows of Lake Logipi, their feathers a brilliant pink against the blue water. The flamingos gracefully wade through the water, their long necks dipping below the surface to catch small fish and crustaceans. The water ripples around them, creating a kaleidoscope of pink, blue, and green. The scene is peaceful and serene, and the only sound is the gentle splashing of the water.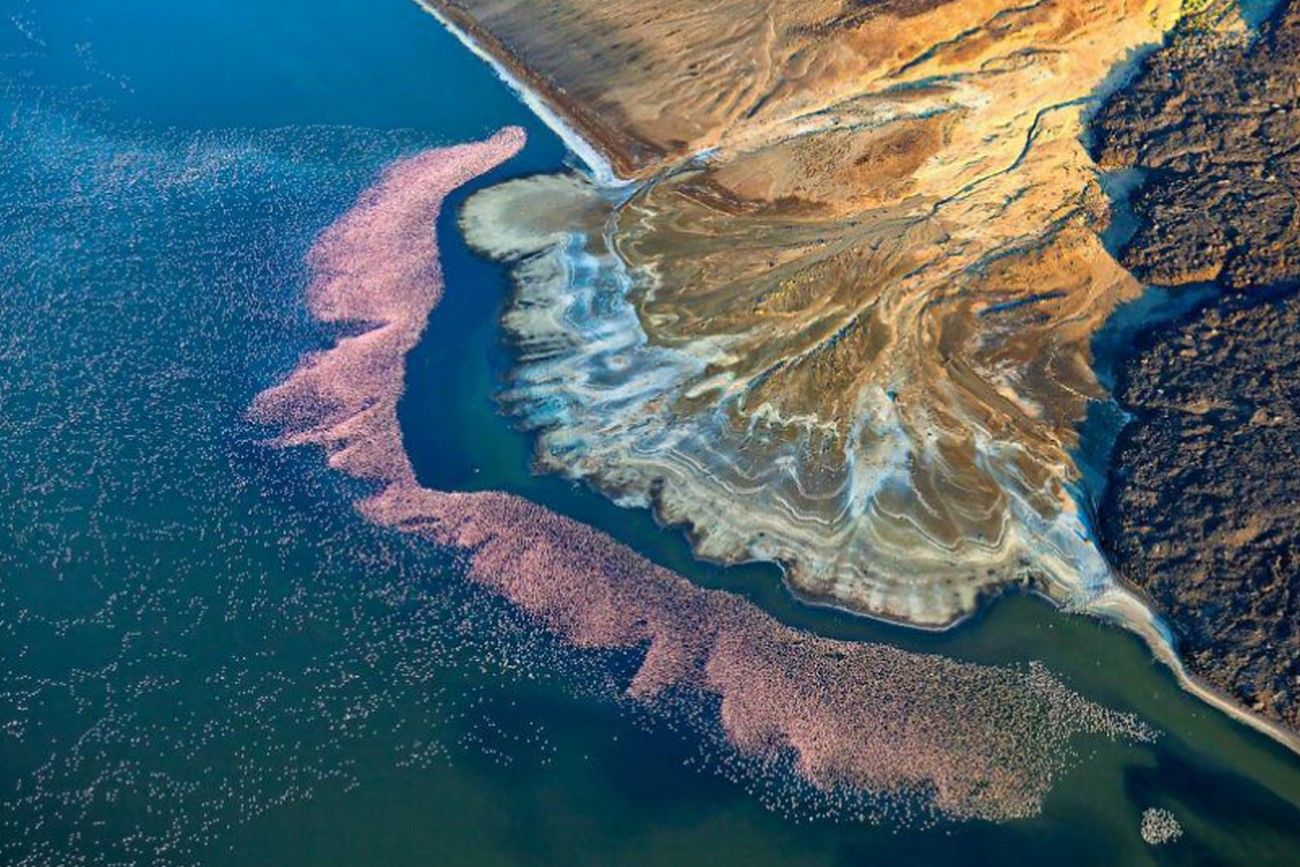 50. Dubai Highway
Dubai is known for its extensive and impressive highway infrastructure. The city boasts a network of wide, multi-lane highways that crisscross the urban landscape and connect various parts of the emirate. These highways are known for their modern design, smooth surfaces, and efficient traffic management systems. One of the most notable is the Sheikh Zayed Road, a major artery that runs through the heart of Dubai and serves as a vital transportation corridor. This iconic highway is flanked by impressive skyscrapers and offers stunning views of the cityscape.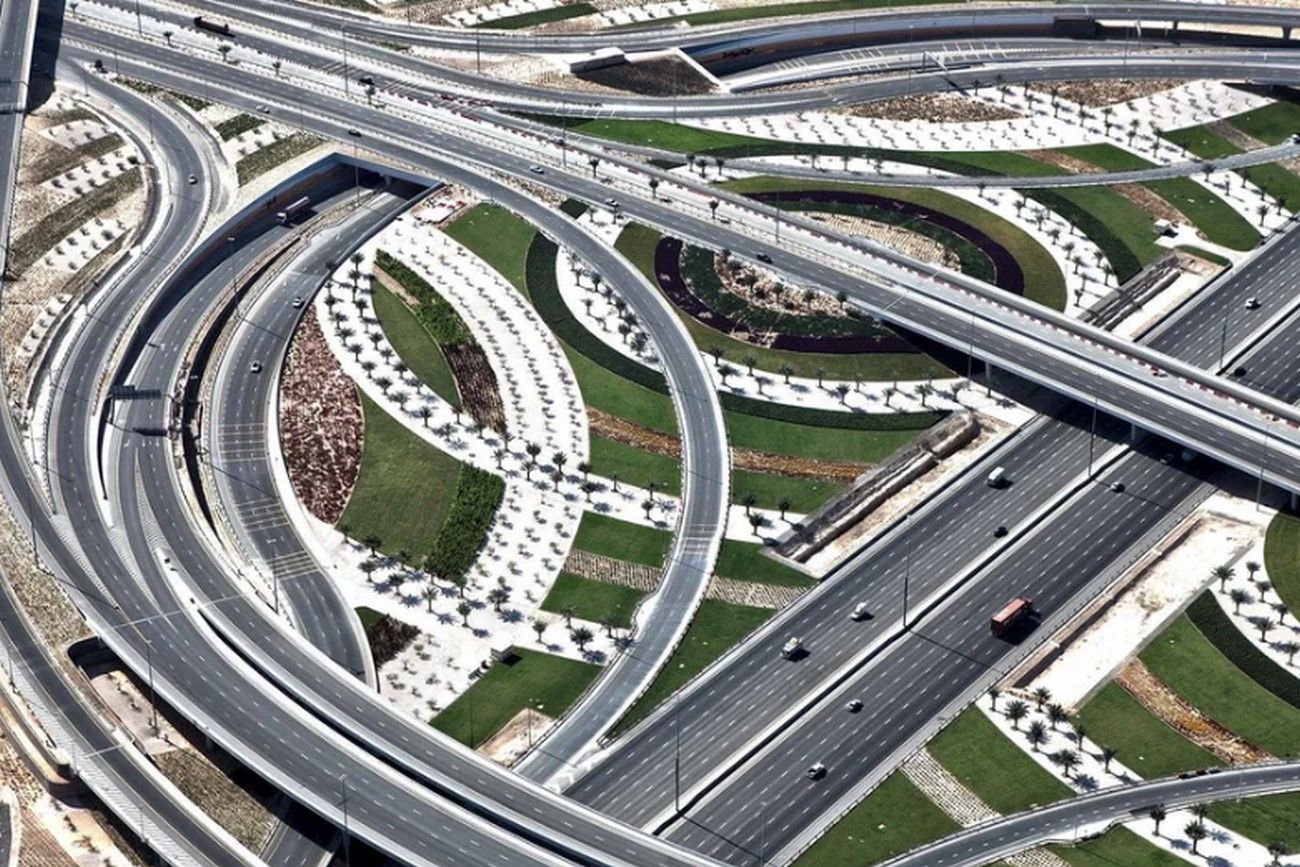 @gagga_hai/reddit.com